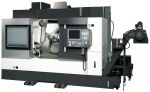 Multitasking Machines -- Smarter Than You Think
Most of us can't imagine a day without our smart phones. By combining the capabilities of a phone, pager, camera, voice recorder, and even a GPS, we have a more compact, more efficient, more capable device. But what about smart machines?


The "smart" convergence has also happened with machine tools. By combining 2 lathes, a machining center or two, and some automation, you have a multitasking machine tool. This simplifies and improves the machining process, as well as adding smarter capabilities.