Innovative System Combines High-Pressure Water Jet Deburring and Low-Pressure Part Cleaning and Drying
As a cost-efficient answer to continually increasing demands on the absence of burrs and particulate cleanliness, Ecoclean has developed the EcoCvelox system.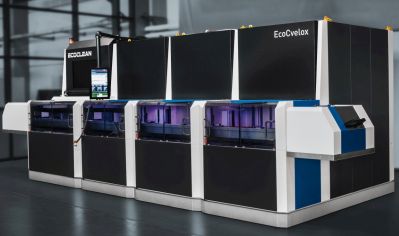 The new EcoCvelox combines deburring, cleaning and drying processes with a highly dynamic and quick parts handling technology.
Its modular design allows a custom configuration and subsequent expansion, at any time, of equipment from a single source to provide a combined high-pressure deburring, cleaning and drying capability. Cycle times of only 15 seconds per pallet can be achieved.
Further standard-setting features of the EcoCvelox system include a CAD/CAM interface for rapid and easy offline programming of the high-pressure deburring function plus highly dynamic part handling technology.
Hydraulic and pneumatic system components, small engine blocks, pump and valve housings, nozzles, transmission parts, steering and brake elements and other, mechatronic components -- these are just some examples of parts subject to ever more stringent specifications regarding deburring and technical cleanliness.
Formerly, meeting both requirements in an optimum manner called for the use of multiple equipment from different manufacturers. Now, with its innovative EcoCvelox concept, Ecoclean has developed a modular solution that combines 5-axis high-pressure deburring with various part cleaning and drying processes in an efficient and space-saving way.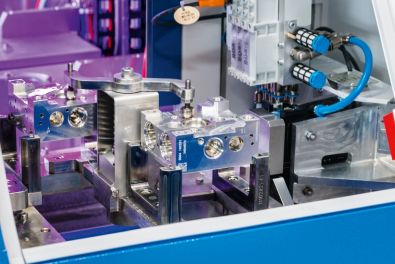 High pressure deburring can be performed using the standard single spindle or an optional HP turret accommodating up to five different tools. Cycle times of only 15 seconds per pallet can be achieved.
Moreover, in addition to flexibility, the new system sets standards in terms of the process-to-cycle time ratio, equipment level, operating convenience, ease of maintenance, and overall availability.
Maximum Flexibility Makes for Optimum Adaptability to User Needs
The modular design allows users to configure individual systems that merge high-pressure deburring, part cleaning and drying from a single source, and to expand them as needs evolve. A combination with other products from this machine manufacturer, e.g., solvent cleaning prior to deburring in applications involving high oil input, is also possible. The diverse standard modules of the EcoCvelox are rated for parts measuring 200 x 200 x 200 mm which are supplied on pallets. This format covers most general industry applications.
Tooling configuration for the various processes is likewise adaptable to the specific parts. Thus, high-pressure deburring can be performed using the standard single spindle at up to 1000 bar pressure (or a maximum of 3000 bar should the need arise).
An optional HP turret accommodating up to five different tools supports complex deburring operations. It provides a tool-to-tool changeover time of only 1.5 seconds. The tools for the spindle and the HP turret can be custom designed to match the given part and can be made by 3D printing.
For part cleaning, the processes of injection flood washing, spray cleaning and selective rinsing are available and can be combined. Drying can be achieved by high-velocity air blow-off and/or vacuum, with the air blowing solution being integrated into a cleaning module as well.
CAD/CAM Interface for Easy Programming of Deburring Operations
An absolute novelty in deburring systems, although a common feature on today's machine tools, is the CAD/CAM interface that can be integrated into the equipment.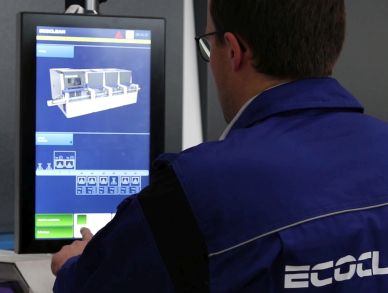 On the 19" flat screen monitor (HMI), all of the system's modules are presented separately and clearly in a complete overview diagram, similar to a smartphone display.
It allows a transfer of part design data for purposes of programming the high-pressure deburring step. This can be done offline to load the data into the machine controller, which is easier and faster than any conventional teach-in method. In addition, this capability helps to set up deburring processes for new parts in minimum time and at low cost.
For part identification, a camera system can be integrated. The result is an effective and cost-efficient deburring operation, even with "lot size one" parts.
Due to its high flexibility in terms of both equipment configuration and process design, the EcoCvelox is an efficient, one-stop solution for all deburring, cleaning and drying needs. To avoid exhaust air, the system can optionally be equipped with an energy efficient air recirculation system.
Want more information? Click below.