New Generation VMC Built for Rigidity, Speed, and Higher Precision Thanks to Thermal Compensation
Designed and built based on extensive customer research, the New Generation Romi D Series vertical machining centers offer users higher productivity, robustness, and precision. Like all Romi machine tools, they are built with Romi made monoblock cast iron beds that absorb vibration and allow consistent production of highly precise parts.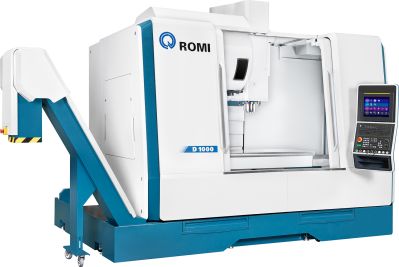 In the USA, Romi offers three models, the D 800, the D 1000, and the D 1250. All three are equipped with big-bore 40-taper direct drive spindles with speeds of 10,000 or 15,000 rpm. Direct drive is low maintenance and improves accuracy and repeatability, while the big-bore 40-taper increases stiffness and allows increased depth of cut during machining.
The machines are equipped with thermal compensation, with sensors, to improve precision. Each model is equipped with a Fanuc 0i-MF i-HMI CNC with 15" touchscreen, and a high speed and high quality package that allows better performance during machining.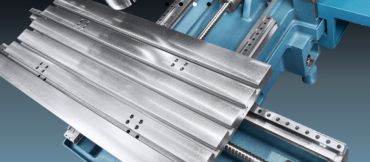 Linear roller guides on all three models facilitate feed rates up to 1,575 inches / minute (40 m / min), which allows for precise and fast acceleration and positioning. They also increase robustness during machining and load capacity (part weight) on the table.
The three models, D 800, D 1000 and D 1250 have a robust net machine weight of 20,500 lbs, 21,800 lbs and 23,000 lbs respectively, and a maximum machining volume of 31 x 24 x 25 inches, 40 x 24 x 25 inches and 50 x 24 x 25 inches respectively. Each model is equipped with a 30 tool automatic vertical tool changer.
Want more information? Click below.