New Indoor Drone Uses UVC Lights to Disinfect Factories Quickly
Digital Aerolus has developed the first indoor drone with germicidal C-band ultraviolet (UVC) emitters at 265nm, creating a remote and mobile disinfection method for essential businesses.
The Aertos 120-UVC combines industrial drone technology with powerful UVC emitters, allowing essential businesses to rapidly deploy disinfection tactics remotely, without putting humans at risk.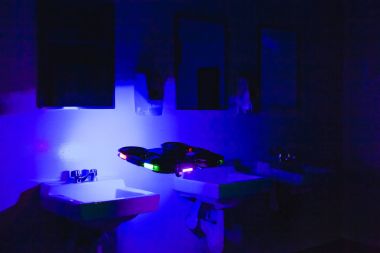 Digital Aerolus' industrial drones do not require GPS or external sensors to fly indoors, enabling drones to operate stably in places other drones cannot go, including small and confined spaces.
The company pivoted over the past few weeks to launch a new drone with UVC LED emitters, as a tool to mitigate the spread of pathogens for people working at essential businesses. The Aertos 120-UVC can be used for disinfection in critical places, including:
Factories, Warehouses and product areas -- work surfaces, product handling and storing areas
Healthcare facilities -- patient rooms, hospital rooms, and waiting areas
Airplanes and Public Transit -- seats and exposed surfaces
Business common areas -- restrooms, workrooms, breakroom surface areas
UVC disinfection is well-understood and has been used for decades to keep pathogens out of our drinking water and off surfaces. But generally, UVC sources are large, cost-prohibitive or impractical to deploy. UVC energy cannot be directly used around humans, given that these same killing attributes of this energy also damage human DNA. The new Aertos 120-UVC from Digital Aerolus allows more organizations to deploy UVC disinfecting tactics quickly.
Digital Aerolus is co-founded by Jeff Alholm, a leader in the development of the first smartphone, the Newton-based Seahorse; millimeter-wave imaging technology; the 802.11 Wi-Fi standard; the pulse oximeter; and the capnograph.
"As this global crisis has unfolded, we've been committed to developing an innovative and accessible solution to wage war against COVID-19 and mitigate the risk to humans worldwide," said Alholm.
"Like many others, we are innovating to combat this horrible virus, and we're focused on how we can use our unique technology to deliver pathogen-killing energy in challenging environments. Using UVC energy to disinfect isn't new, but our delivery method is. The method matters, because it helps to keep people safe amid a pandemic."
Want more information? Click below.