4-Spindle Tape-Finish Machine Limits Downtime to 1 Second
Thielenhaus Superfinish Innovation has developed an extremely fast tape-finish machine. The four-spindle automatic PowerCube doesn't reduce the duration of the tool action; instead, it reduces the machine's non-productive time to one second and the set-up processes to an absolute minimum.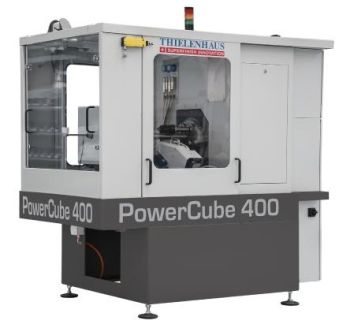 The spindles are integrated in a round table and can be sealed off from each other. Through 90° strokes, a completed workpiece can be removed and a new one can be loaded. In this way, two workpieces can be machined simultaneously, while the detergent wetting for the third spindle is centrifuged. Or, alternatively, a different machining operation can take place. The fourth spindle allows loading and unloading that is unaffected by the main time. Similarly, double-loading, multi-stage processes and combination machining with very short cycle times are possible.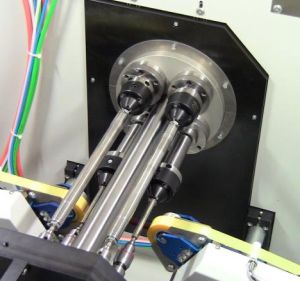 Thanks to a simplified tape and printing roll changeover system and a high level of accessibility in the working space, set-up times are reduced to a minimum. Optional NC axes support the set-up process with the most common kinds of changeover. With its speedily adjustable tape-finish units, the modular construction guarantees flexible, cost-neutral configuration for the most varied workpieces; in the standard working area, these can have dimensions of up to 50 mm diameter and 400 mm length.
The self-explanatory user operation surface with its pull-down menus is ahead of the field in innovation. All settings can be carried out quickly and easily by the operator him- or herself, without special training. The machine's interface allows the adaptation of a great range of automation solutions. Despite its high performance, the PowerCube is surprisingly compact: its footprint measures only 1,200 x 1,940 mm.
Want more information? Click below.
Copyright © 2023 by Nelson Publishing, Inc. All rights reserved. Reproduction Prohibited.
View our terms of use and
privacy policy
::m::