Helpful Hints to Keep Your Equipment in Shape During the COVID-19 Shutdown
PSI Repair Services, Inc. will be providing free videos to manufacturers on how to maintain their critical manufacturing equipment during the COVID-19 shutdown. The state of Michigan granted PSI an exception to the COVID-19 shutdown because it serves many essential manufacturers that deliver critical products and services to the American public.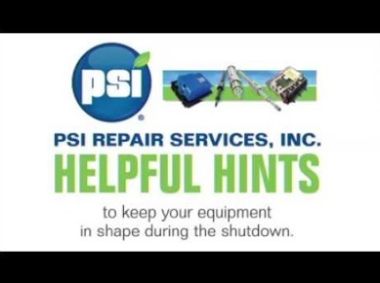 The first video, which is available now on the PSI Repair Services website and YouTube, features PSI's General Manager Mike Fitzpatrick, who shares advice on maintaining production equipment during the COVID-19 crisis. Additional videos will follow in the coming weeks.
Since 1967, PSI Repair Services has offered industry-leading industrial component repair services for poorly performing electronics, hydraulics, robotics and precision mechanical assemblies. PSI serves a wide range of industries like automotive, aerospace, defense, energy, healthcare, semiconductor, and transportation.
All work comes with a free evaluation, performance test and warranty. In some cases, customers save 70 percent versus the cost of buying a replacement component from the OEM. And, if you need to get your critical system back up and running again as quickly as possible, PSI also offers emergency services and surplus parts (depending on availability) to help you out of a jam.
"PSI is proud to provide valuable resources for global manufacturers in this time of crisis," said Mike Fitzpatrick, General Manager of PSI Repair Services, Inc. "We realize how vital manufacturing is to the world's economy, so if we can help manufacturers avoid costly downtime when operations resume, we will know that we are making a difference."
Want more information? Click below.