Watch How Cobots Made Production Smarter and Safer for this Building Technology Manufacturer
Albrecht Jung is a premium supplier of modern building technology systems. Switches, sockets, dimmers, monitoring devices and systems for controlling functionality in both private and commercial environments. In order to respond better to individual customer demands while also freeing up employees from handling small parts, Jung has automated part of its production with eight collaborative robots from Universal Robots.
Albrecht Jung is now using eight cobots from Universal Robots for pick-and-place, screw insertion, parts assembly, and packaging. The deployments have enabled Jung to successfully optimize its production, while maintaining a consistent high product quality.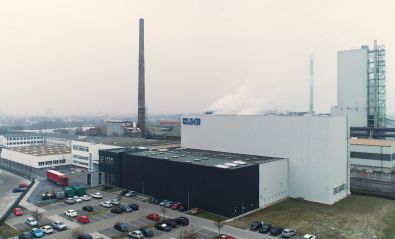 Since its founding in 1912, Albrecht Jung has always looked for ways to optimize its products and to develop cutting edge solutions.
Jung strives to optimize its entire value-added chain according to lean principles. The company's mission is to produce as efficiently as possible while maintaining flexibility to produce even small batch sizes.
The medium-sized company attaches great importance to the fact that both customers and employees benefit equally from the partial automation of production: "At Jung, we focus on people," says Mario Schäfer, production manager at the plant in Lünen, Germany. "While we focus on the satisfaction of our customers, whom we want to offer our products in the high 'Made in Germany' quality, we also want to relieve our employees from monotonous tasks. Their human skills are essential for us, because many of our products are hand-crafted. We were looking for a safe technical solution to support our colleagues at work."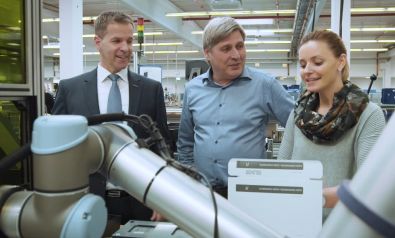 Jung became aware of Universal Robots in 2013 through a research project. After learning about the benefits of cobots, they incorporated the UR5 into their production line.
Five years ago, Jung bought its first UR5 as part of a research project. It was integrated fast and easily into the production line and has supported the employees in the assembly of smart radios ever since.
In the manufacturing cell, a shift worker places a fully assembled power pack in a mount and starts the UR5 by pressing a button. The robot sets itself in motion, picks up the power pack with a two-finger gripper and places it in a laser chamber, where it is laser marked on the front and back. Afterwards, the UR5 removes the part and places it in a second mount.
During the laser process, the operator folds shipping cartons and cleans finished parts with a cloth. In a next step, she packs the parts into the cartons and installs a new power pack. The cobots' high usability and functionality convinced JUNG to implement more UR robot arms.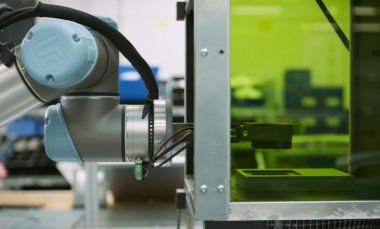 The UR5 cobot picks up the assembled parts and places them in a laser chamber.
Today, for example, a UR3 is used at one of the manufacturing cells for assembling components of digital radios with maximum precision. "I used to have to fasten the screws by hand," says the operator. "That was often a tricky job, because they are quite small -- sometimes I slipped. Work has become so much safer for me thanks to the UR3. In addition, I save valuable time per operation -- and can assemble considerably more parts."
Two additional UR5 cobots are now being prepared for use at the Jung plant. They are to assemble and move parts -- and hand them over to each other. The Jung employees program them on their own and also prepare the appropriate applications themselves. After commissioning, a total of eight UR robots will be in service at Jung, including several packaging robots.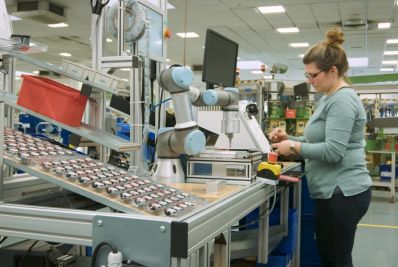 Half of the 8 cobots in use at Jung work side by side with employees. They each handle up to 400,000 parts a year.
"We are proud to be able to successfully optimize our production with this cutting-edge technology. Production costs and lead times are considerably reduced by the cobots -- resulting in fast amortization," says Schäfer
The use of the robots from UR has paid off for Jung in several ways as both the company, its customers and staff benefit from the foray into human-robot collaboration.
Want more information? Click below.