Okuma's Machining Centers Help Legendary Race Team Beat the Competition
Perennial drag racing champion, Don Schumacher Racing, is continually looking for an edge on the track -- and at its manufacturing facility in Brownsburg, Indiana. And they believe they found it with a stable of machine tools that offer quality and precision -- along with answers to questions about cost, service, and the lack of skilled labor.
Don Schumacher Racing (DSR) is the most successful team in NHRA (National Hot Rod Association) Drag Racing history, having claimed more than 339 NHRA national event titles and 17 world championships since opening its doors in 1998. To achieve such consistent results DSR has built their organization around the pursuit of excellence, and Okuma is one key partner in this journey.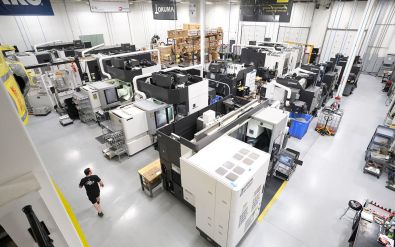 120 employees work at the Don Schumacher Racing shop in Brownsburg, Indiana. 14 Okuma machines are used at the facility.
The partnership began in 2006 when DSR purchased its first Okuma machines, an MCV-4020 vertical machining center and a Captain lathe. Today they have 14 Okuma machines on site, representing a majority in the shop's stable of machine tools.
Precision -- a Must-Have
DSR's requirements for precision are extremely high, with tolerances averaging plus or minus one thou. Beyond the tolerances, smooth surface finishes are also critical because poor finishes can result in stress points in the material. In racing, if one small part fails, the failure of the entire car can be massive.
"We simply must have a machine built for precision, with a strong spindle, a strong table, and tight ball screws...everything is critical," says Scott Cutler, Senior Manufacturing Engineer at DSR.
A Skilled Labor Solution
Their shop has some of the industry's most sophisticated machine tools, from 5-axis to 9-axis and mill/turn. It's one thing to have all those capabilities and make a variety of very intricate parts, but operators also need to be able to understand how to run the machines.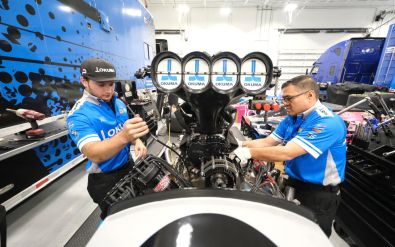 The race team used Okuma's MA-600HII horizontal machining center to manufacture the engine block completely in one machine.
Okuma's OSP controls make this process easy for operators. "The controls are very easy to use, and each machine virtually runs the same controller with a few added options. If you learn one, it's very easy to cross-train and pick up another," says Cutler. "Everyone loves them. I've hired numerous people from different backgrounds. Initially, when they see the sophistication of our machines, they're a little uncomfortable. But within a day they're comfortable on the machine and running parts on their own."
DSR finds this especially helpful in today's environment where it's challenging to find skilled labor. New hires can ramp up quickly.
Teaming Up on Engineering
DSR produces a majority of parts for their engines, with plans to also supply much of the rest of the racing industry and beyond through Don Schumacher Motorsports (DSM). Their goal is to continue focusing on high-performance parts while driving down cost, which will make the sport accessible to more race teams. Innovation, therefore, is a must.
To accelerate innovation, DSR takes advantage of engineering resources from Okuma and their distributor Gosiger. In recent projects working on engine blocks and cylinder heads, DSR established an aggressive agenda that was accomplished with applications help from Okuma and Gosiger. Engineers came together to work on solutions and utilize new machine options to establish processes to run these parts.
"The engine block project took approximately four months, with many long days. I had an Okuma applications engineer working with us every step of the way. He worked through a lot of part programming, fixturing, and took advantage of the kinematics of the machine tool to make parts in the most cost-effective way," Cutler recalls.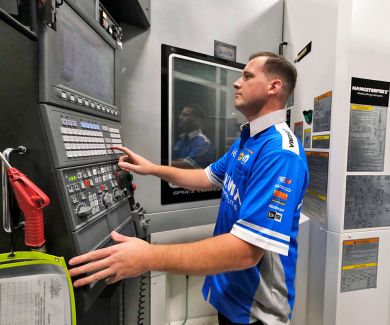 Okuma's OSP controls make it easy for operators to run the machines.
Together, the team accomplished their goal of utilizing their MA-600HII horizontal machining center to manufacture the engine block completely in one machine.
Service in a Snap
According to Cutler, DSR initially chose Okuma for a variety of reasons. "First, we needed a machine that could really deliver on quality and repeatability. In addition to that, we needed a strong service offering to keep our machines running and be able to get quality technical support."
Over the years Okuma has proven to be the right choice when it comes to service. "We haven't needed it too often, but when we do, the response time, parts availability, and expertise of the service people make for an extremely smooth process." This experience is a stark contrast to what DSR has experienced when their non-Okuma legacy machines are down, which typically lasts a full week. Long periods of downtime are extremely challenging when you have race deadlines to meet.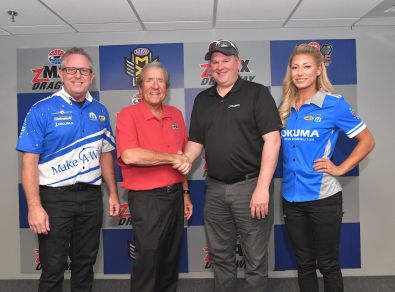 In the spring of 2019 Don Schumacher Racing and Okuma announced that their ongoing partnership has expanded to include a primary sponsorship of Leah Pritchett's Top Fuel dragster at three NHRA events in 2019, and associate support of Tommy Johnson Jr.'s Make-A-Wish Foundation Dodge Charger SRT Hellcat Funny Car.
A Future of Open Possibilities
At Schumacher Racing quality doesn't end with precision-made parts or the number of races won; quality begins and ends with each individual in the organization. Having a culture of quality, they have found a well-suited partner in Okuma.
DSR's Senior Vice President, Mike Lewis: "Our relationship with Okuma is exemplary in terms of the quality of the machines, the quality of service to keep them running, and the quality of the people. Looking to the future, and where Don Schumacher Racing and Don Schumacher Motorsports are going, our Okuma machine tools can be adapted to all types of engineering and production. The sky is the limit...we have open possibilities for growth."
Want more information? Click below.