Scansonic Launches New Laser Optics Perfect for Automotive Production
Scansonic has been producing the ALO line of special processing optics for tactile laser brazing and welding for nearly 20 years. Now, the company's latest ALO4 model is proving itself in series production for a leading automobile manufacturer.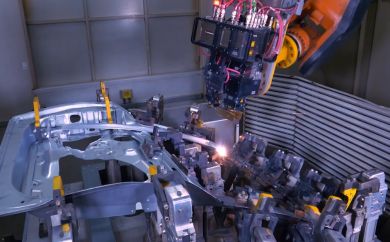 The new-generation ALO4 features significant improvements. For instance, it is the only optic on the market equipped with an integrated wire feeder made by Scansonic partner Abicor Binzel. An additional control box for the module is not required. Operators work with a single user interface and the complete system is supplied by a single source.
Swivel arm performance has also been improved with even finer tilt sensors to meet brazing and welding tolerance specifications. Its 3D weight compensation also enables high-precision control of the wire contact pressure in all positions. Thanks to additional torque, the swivel arm brings more power into the application.
Scansonic Product Manager Philip Marben explains: "Even with complex component geometries, this ensures robust, yet extremely fine, almost invisible seams." The need for post-processing in the visible area is completely eliminated.
The new motor-driven wire positioning extends the scope of applications in highly-automated production lines. Right and left applications are possible, enabling a single optic to process different components in the same laser cell. This increases versatility while saving time and money.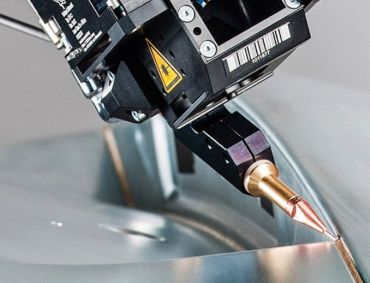 Handling is also much easier. Plug-and-play operation is simple with the new hardware and interface architecture. Process parameters can be programmed via the intuitive user interface. This adds up to shorter setup times, faster lens changes, and more efficient service -- all from a single source.
Ready for Industry 4.0
The ALO4 is perfectly prepared for Industry 4.0. digital production environments.
The SCeye process monitoring solution developed by Scansonic is fully integrated into the ALO4. SCeye documents every welding or brazing seam with video and a complete dataset. This system also monitors user-defined process and machine parameters. Production errors and process defects are detected in time to eliminate costly rejects. Data from the optics are available at all times to support predictive maintenance. The user interface enables operators to monitor the view from the optics in real time and see a live image of the joining process from outside the laser cell.
The ALO4 is best-suited for applications requiring uncompromising precision -- including complex contours in vehicle bodywork or e-mobility applications such as safety-relevant battery packs.
Want more information? Click below.