Vacuuming for 65 Years
Celebrating its 65th anniversary this year, Vac-U-Max first became involved in the metalworking industry in the early 70's. Today, the New Jersey company offers a full line of industrial vacuums and cleaners. Vice President Doan Pendleton says the secret to their success and longevity isn't "fighting to keep the old, it's building and expanding the new."
VAC-U-MAX has reached a proud milestone celebrating 65 years of business providing bulk material handling and industrial vacuum cleaning solutions to industries worldwide.
The company has grown from the dreams of its founder Frank Pendleton, who designed the world's first industrial vacuum cleaner that operated only on compressed-air to service the highly combustible textile mills industry of New Jersey.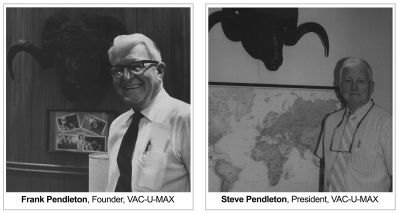 In addition to servicing niches for combustible dust handling, in 1970 VAC-U-MAX designed and engineered compressed-air powered industrial vacuum cleaners for the evacuation of highly flammable jet fuel for Pan American Airlines, recovering jet fuel from the wing tanks of the first Boeing 747 aircraft.
VAC-U-MAX entered the metalworking industry in the early seventies, designing the TK-Series industrial vacuum cleaner for high speed liquid cleanup applications including parts washers, machine tool sumps, sludge removal from finishing tanks, or any application requiring high-speed transfer of liquids or liquids with metal debris directly into closed drums.
To service the niche that required the separation of coolant from solid metal particles, VAC-U-MAX introduced the MW-Series in 2007 which separates liquids from metals, collecting the metal debris in a chip basket with reverse-switch pumping the coolant back into the machine tool.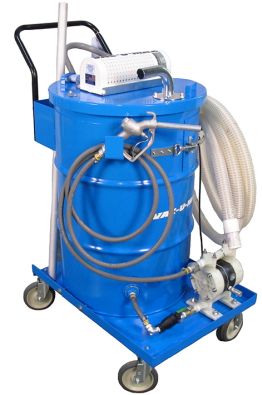 VAC-U-MAX's 55MW air-operated Industrial Vacuum Cleaner separates coolant from metal chips/debris at 1-2 gallons per second (60-120 GPM). Operators quickly empty machine tool sumps, machining beds, oil/water separators, parts washers, and rinse tanks by vacuuming both coolant and chips directly into the collection container where solid particles are separated from collected liquid with a VAC-U-MAX Chip Basket and Liner.
Today VAC-U-MAX designs a full line of portable industrial vacuum cleaners and central metal chip collection systems with VAC-U-MAX tube hopper collecting and depositing wet or dry metal debris including cast iron, steel, aluminum, composite chips, and other abrasive materials directly onto below-floor mechanical chip conveyors.
In 2014 VAC-U-MAX introduced the AM-MPRS (Additive Manufacturing Metal Powder Recovery System) designed to revolutionize the metal powder recovery process by utilizing advanced vacuum technology for easy and safe handling of metal powders including Inconel, Stainless Steel, Haynes 282 and Cobalt Chrome.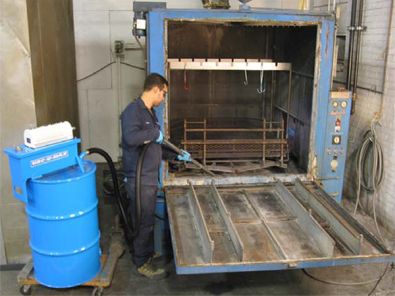 The system extracts the metal powder from the printing bed then sieves it for future use in 85 percent less time than traditional extraction methods. Additionally, in 2018 VAC-U-MAX designed the first renewable-energy lithium-ion vacuum cleaning system for high volume recovery of post-consumer waste for municipal transit track cleaning applications.
A pioneer with many firsts, VAC-U-MAX entered the pneumatic conveying business in 1965, designing the first venturi-powered vacuum-generator with patented noise suppression for applications conveying black powder for a US ordnance manufacturer.
In 1977 VAC-U-MAX introduced the vertical-wall "tube hopper" material receiver designed for "difficult-to-convey" materials. Today's manufacturing environment utilizes pneumatic conveying systems for moving a wide variety of powders and granular materials from sources like drums, totes and super sacks, to destinations like process equipment or packaging lines, with vacuum conveying technology the most commercially accepted. In 1989 VAC-U-MAX patented the Bulk Bag (Super Sac) Unloading Station which included massaging actuators that aid material flow from the super sac to the process below.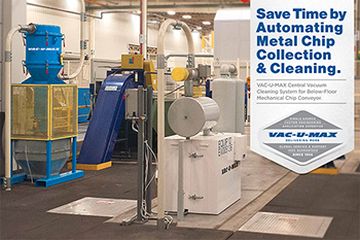 VAC-U-MAX's tradition, vertical integration, application expertise, and manufacturing in Belleville, New Jersey now spans three generations, with Steve Pendleton the President of VAC-U-MAX. "It gives me great pride to follow our family tradition and entrepreneurial spirit," said Pendleton. "We are committed to building, expanding, and continuing our legacy by manufacturing high-quality solutions for industries worldwide. I am proud of what our company and employees have accomplished and will continue to accomplish, following the legacy of our founder, Frank Pendleton."
"The secret to the success of any business is being able to focus not on fighting to keep the old, but also on building and expanding the new," said Doan Pendleton, Vice President. "At VAC-U-MAX, we focus on our customers and their applications and in doing so incorporate 65 years of process expertise," said Pendleton.
With over 6,000 square feet of available floor space in the Customer Test Facility, VAC-U-MAX offers the ability to create a multitude of equipment configurations. Over 10,000 difficult-to-convey materials have been tested in their 65 years, adding to VAC-U-MAX application expertise in bulk material handling and industrial vacuum cleaning.
The test facility is equipped to meet customer demands for full-scale vacuum conveying, flexible screw and aero-mechanical conveying testing in addition to testing a wide range of industrial vacuum cleaners.
Want more information? Click below.