Innovative Damping System Lowers Vibrations Up to 1,000 Times
Vibration often occurs during machining. This leads to dynamic instability of the system. Inadequate surface finishes, insufficient accuracy, high machining noises, shortened tool lives and, in extreme cases, broken tools and cutting edges can be the result.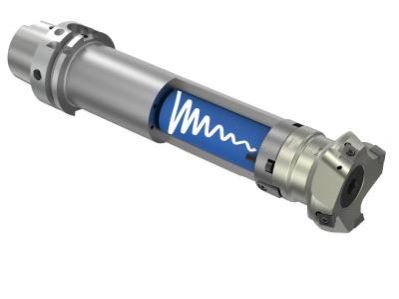 In order to minimize these vibrations and their consequences, MAPAL has now developed an innovative system for vibration damping in the tool shank, specifically in tools for boring and milling with very long projection length tend to vibrate due to an inadequate dynamic rigidity of the overall system.
When designing the new system, the developers took into account all factors arising from the interaction of the machine tool, the tool and type of clamping as well as the component. The result: A system for vibration damping that is matched to all common types of machine stiffness. It can be used for machining different materials with different tools.
The self-contained system of auxiliary mass and several steel spring packages counteracts the deflection of the tool body and minimizes it. The vibrations can be up to 1,000 times lower compared to tools without absorber system. Despite the long projection length, quiet, stable running is achieved. This makes it possible to work at higher cutting speeds and significantly increases the material removal rate.
In addition, significantly better surface finishes are achieved thanks to vibration damping.
Milling cutter arbors with vibration damping in the shank are available with internal coolant supply for clamping diameters 16, 22 and 27 mm with a length of 200 and 300 mm for SK40, SK50, HSK-A63 and HSK-A100 connections.
Want more information? Click below.
Copyright © 2021 by Nelson Publishing, Inc. All rights reserved. Reproduction Prohibited.
View our terms of use and
privacy policy
::m::