3D Printer Manufacturer Teams Up with Sandvik and Kennametal to Create Leading-Edge 3D Metal Solution
The ExOne Company has announced its initial X1 25PRO™ beta machine partnership with Kennametal Inc.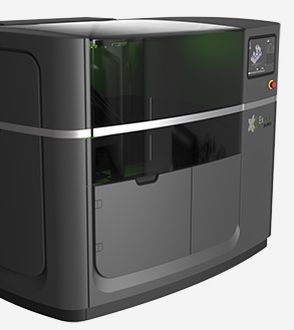 During the beta period, ExOne and Kennametal will have an opportunity to evaluate the new X1 25PRO™ machine and trial test new materials and processes. The new X1 25PRO™ is a high-resolution production machine capable of printing metal and other advanced material parts directly.
"We see binder jetting technology as a key enabler for our differentiated, high-performance wear materials, such as tungsten carbide and Kennametal Stellite™ alloys," said Sherri McCleary, Director, Business Development Additive, Kennametal. "We're pleased to collaborate with ExOne on cutting-edge technology with the potential to help us advance from prototyping to serial production."
The ExOne Company has also further strengthened its material collaboration with Sandvik Additive Manufacturing.
The material collaboration leverages ExOne's knowledge of binder jetting print machines and processes with Sandvik's leading capabilities in materials technology, metal powders, different AM-processes for metals -- and world-leading post processing technologies like machining and heat treatment. The purpose of the collaboration is to create a leading-edge process solution that can be offered to a broad industrial customer base.

The material collaboration will focus on qualifying and optimizing Sandvik's Osprey™ metal powders with ExOne's binder jetting machines. The collaboration will include studying powder and binder interactions, developing 3D machine process settings, and creating post-processing heat treatments for various materials, initially including stainless steels, tool steels, and nickel alloys.
Want more information? Click below.
Copyright © 2020 by Nelson Publishing, Inc. All rights reserved. Reproduction Prohibited.
View our terms of use and
privacy policy
::m::