New Custom-Fit Machine Offers Turning AND Grinding Solution for Automotive Gears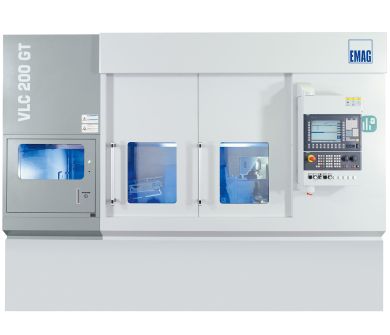 The compact design of the machine means that very little floor space is required. It can also be integrated and interlinked easily into an existing production system.
The new VLC 200 GT has been developed by EMAG engineers especially for the chuck machining of automotive gears. Users benefit from not only highly efficient turning and grinding processes in a single clamping operation, but also by receiving excellent value for their money.
A simple description of the process gives you some idea of the advances in productivity made possible by the VLC 200 GT. To start with, the machine is loaded at exceptionally high speed by the integrated pick-up spindle, a classic EMAG feature. To minimize non-productive times, EMAG has optimized features such as the mechanism of the machining area door.
Once the spindle with the part reaches its machining position, the process starts with hard pre-turning of the shoulder and the bore hole in quick succession. Only a few micrometers of material are then left to be removed from the gear. That means the subsequent grinding process, using either aluminum oxide or CBN grinding wheels, takes significantly less time.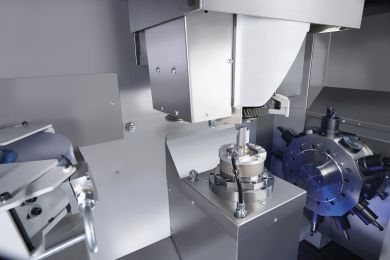 This is a view into the machining area of the VLC 200 GT: the turning/grinding combination ensures significant reductions in process time for gearwheels.
Meanwhile, the machining quality also benefits from the combination of turning and grinding: When there is only a small amount of material remaining to be ground away after turning, the specifications for the grinding wheel can be based more precisely on the end quality required -- as a result, surfaces with an average peak-to-valley height of less than 1.6 micrometers can be created reliably with the VLC 200 GT.
In addition, this multifunctional technology offers users a multitude of possibilities generally: internal and external grinding spindles, scroll-free turning tools, block tool holders, and EMAG's proven 12-station tool turret can all be installed as required.
Lower Tool Costs
There is an additional advantage in terms of tool costs, because during this process the grinding wheel wears down more slowly and therefore does not need to be dressed as often. When it does need dressing, the VLC 200 GT features a separate diamond-coated dressing roll designed specifically for this.
"With its separate rotating dressing system and gap control monitoring, the machine is perfectly equipped to exploit the advantages of CBN grinding," said Peter Loetzner, President & CEO of EMAG L.L.C.
Multi-technology applications: internal and external grinding spindles, scroll-free turning tools, block tool holders, and a 12-station tool turret.
To ensure sustained process reliability and high machining quality, the integrated measuring pin is used to check the diameter and length of the clamped component at the end of the process. Operator comfort and ease of access were important priorities for EMAG's developers, so large doors allow easy access to the machining area. The tools and clamping devices are easily accessible and can be changed quickly and conveniently.
Want more information? Click below.