5-Axis Gantry Mill Ideal for Prototype, Tool and Mold Making
The demands for prototype, tool and mold making are increasing. Only those who can supply high quality output, quickly and flexibly, can succeed against the powerful competition worldwide. Zimmermann is responding to this trend with the new FZU. This 5-axis gantry milling machine is not only extremely compact but, thanks to its thermo-symmetrical design and accuracy, it also provides the ideal entry point to the Zimmermann machine line with maximum productivity.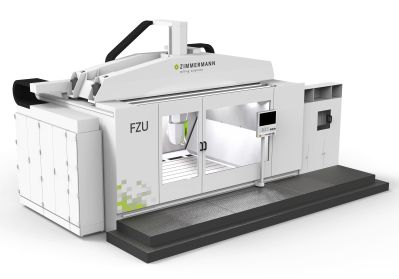 "The basic expectations, which prototype, tool and mold makers need to meet today, have not necessarily changed over the years, they have simply grown," sums up Frieder Gänzle. General Manager and Partner at Zimmermann in Germany. Customers in the automobile industry, he notes, especially expect components with almost perfect surface finishes and ever higher accuracies. Manufacturers introduce new models or variants to the market at ever shorter intervals. Whereas prototype, tool and mold makers could previously plan in the longer term, they must respond today to inquiries considerably faster.
Pre-Assembled Machine Concept
In contrast to the established FZ33 and other machines that Zimmermann offers today, the company is taking a different path with the FZU.
"We can narrow down the special features of this gantry machine to three main characteristics," describes Gänzle.
The first point: "We are following the trend towards modern manufacturing machines and designing them as space-saving, pre-assembled units." This means Zimmermann assembles the machines in-house and can then transport them to the customer by truck or ship without having to dismantle them. Onsite, they are ready for use in a very short commissioning time; erection and start-up require minimum effort. For the customer, this means quickly available machines which can be installed without constructing foundations.
Thermo-Symmetrical Design
In spite of the customers' increased accuracy requirements, the machine must always achieve outstanding surface finishes. The Zimmermann engineers have therefore designed the FZU gantry machine to be thermo-symmetrical. This means that the milling spindle, guides and other accuracy-determining components are arranged so that their heating is either compensated or they can expand in uncritical directions. "This is the second important characteristic," emphasizes Gänzle.
The base frame consists of a steel welded construction which forms a continuous U-shape. The machine gantry's centrally guided Z-slide has an octagonal section -- and not a rectangular one like comparable machines -- which makes it particularly stable. Thanks to its design, it therefore has impressive rigidity for its size.
In-House Head Implemented Throughout
The third characteristic relates to the new VH10 milling head, which achieves an extremely high power density. "This new development has enabled us to reassess our portfolio," reports Gänzle. This is because the VH10 head will replace the VH12, which is not a Zimmermann product. Alongside the VH20, VH30 and VH60, the VH10 is now the smallest head in the range. Users will also benefit from the fact that Zimmermann has suitable spare heads in stock and can supply them on request in the event of stoppages, for example, due to a crash. "We strive to respond quickly and provide the customer with optimum support," emphasizes Gänzle.
Want more information? Click below.