Limited Time Offer -- Free Toolpath Software
ORDERFOX.com has announced a new partnership with Celeritive Technologies, Inc., the developer of VoluMill™ and VoluTurn™ toolpath software for rough milling. VoluMill improves the way that tools cut their way through material, using high-speed continuous tangent motion rather than sharp, interrupted movements.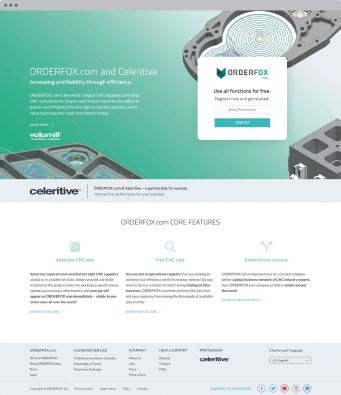 The partnership focuses on providing a pathway for growth; having better access to sourcing partners, research and the right tools, and providing the chance to try the toolpath software at no cost.
New Solution, Increased Success
With this new partnership comes a new solution for success, the launch of VoluMill NEXION Essentials™ -- Celeritive's platform independent toolpath generation software for rough milling that works with any CAD or CAM system. Combined with the ORDERFOX.com platform, manufacturers can leverage VoluMill™ to increase capacity, reduce costs, and find new revenue opportunities via the free ORDERFOX.com network.
VoluMill's constant material removal rates enable machine tools and cutting tools to operate under ideal milling conditions throughout, regardless of a part's shape or complexity. Rough milling performance is significantly increased in all materials, from aluminum, to titanium, to exotics. Generating science-based toolpaths with VoluMill™ is fast and simple.
Limited Time Offer
As a benefit of the newly announced strategic partnership between ORDERFOX.com and Celeritive Technologies, for a limited time, new community members that sign up for free, and fill out their profile, will receive a one-year no-cost license of VoluMill NEXION Essentials™ direct from Celeritive Technologies.
To take advantage of this limited partnership offer visit:
www.volumill.com/orderfox and enter promo code: VOLUMILL01.
Only new registrants who sign up through the Celeritive Technologies link will quality for this limited time offer.
Want more information? Click below.