IMTS 2018 Shatters All Records!
IMTS 2018 didn't just break records; it crushed them.
A rapidly transforming industry sparked IMTS 2018 -- The International Manufacturing Technology Show, to set all-time records for show metrics. The 32nd edition of the show drew a record registration of 129,415 people and featured 1,424,232 sq. ft. of exhibit space representing 2,123 booths and 2,563 exhibiting companies. Previous records were 121,764 registrants (1998), 1,415,848 sq. ft. of exhibit space (2000), 1,808 booths (2016) and 2,407 exhibiting companies (2016).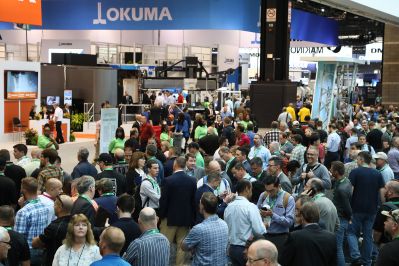 "Connectivity, the digital transformation of manufacturing, automation, additive manufacturing and a strong economy drove record numbers at IMTS 2018," says Peter R. Eelman, Vice President -- Exhibitions & Business Development at AMT -- The Association For Manufacturing Technology, which owns and produces IMTS. "Digitization collided with a robust manufacturing industry to create our most dynamic show ever."
Historically, years between IMTS lead to incremental machine improvements, which are now reaching physical limits. "The velocity of change has become different," observes Tim Shinbara -- AMT Vice President -- Manufacturing Technology. "Analog technology yields linear improvements. Digital technology creates exponential growth and transforms how manufacturers and job shops operate."
An Expansive Show
Notable growth areas at IMTS 2018 included an expanded Additive Manufacturing Pavilion that featured 51 exhibitors and covered 31,550 sq. ft., the strong partnership with HANNOVER MESSE USA and its four co-located shows and 510 exhibitors, an expanded Smartforce Student Summit that drew 6,000 more visitors than in 2016.
"IMTS witnessed an unprecedented degree of collaboration among exhibitors to develop additive manufacturing, automation and connected systems," says Eelman. As an example, he points to the venture between 3D Systems and GF Machining, with their DMP Factory 500 metal 3D printing system unveiled to the public on the first day of the show.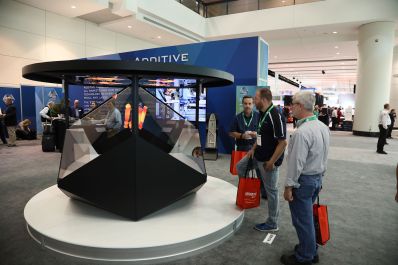 Illinois Governor Bruce Rauner addressed the IMTS audience on Sept. 12, stating that "There are four reasons that manufacturers from around the world are coming to the state of Illinois to build great products -- people, transportation, innovation and energy. We're driving great manufacturing growth in this state." He noted that Illinois is the 17th largest manufacturing economy in the world, generates 600,000 manufacturing jobs, and produces $100 billion dollars in manufactured products.
Co-Located Shows
The HANNOVER MESSE USA co-located show hosted 510 exhibitors from around the world. At the center of HANNOVER MESSE USA was the Solutions Theater, which hosted more than 60 learning sessions that dove deeply into important topics such as IIoT, intelligent manufacturing and next-generation technology.
Dell Technologies, Microsoft and SAP joined other innovators in a new Digital Factory exhibition that showcased breakthrough products and solutions focused on integrated processes and IT solutions for plant operations. The show has increased its exhibition space by 26 percent over IMTS 2016 and by more than 440 percent since its first appearance eight years ago.
Two AMT's Emerging Technology Centers
With digital technology, the pace of change makes it difficult to fully grasp the possibilities. IMTS 2018 directly addressed that issue with AMT's Emerging Technology Center (ETC) on digital transformation, which featured demonstrations of how new science impacts manufacturing.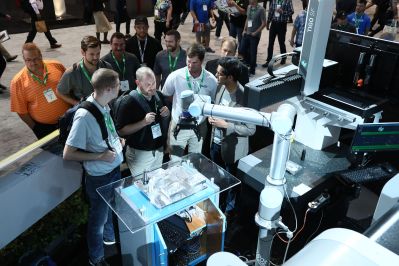 Cisco, an IT hardware company, exhibited at IMTS for the first time, bringing its expertise in the industrial security of data and connectivity to the ETC. Visitors learned about best practices to secure their plant floor and intellectual property. Security is now a top concern, and manufacturing facilities need to manage modern security with legacy operating systems.
IMTS 2018 will be noted as the year of digital transformation, as exemplified by an automated cell linking a Hurco CNC, a Universal Robot arm and Hexagon CMM using the MTConnect™ standard.
Additive Advances
"Additive manufacturing is one of the most revolutionary technologies ever brought to IMTS, and that's reflected in the ETC focusing on additive manufacturing," says Eelman.
To show its speed and versatility, Oak Ridge National Laboratory created a "die-in a-day" demonstration that featured four stages of development: printing the die at Lincoln Electric, machining the printed die at Mazak, molding a part from the die at IACMI and 3D laser scanning the part at Quality Vision International.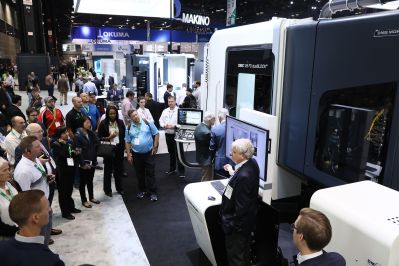 "Traditionally it takes a minimum of six weeks to make molds, and it costs tens of thousands of dollars," said Lonnie Love, Group Leader of Automation Robotics and Manufacturing at Oak Ridge National Laboratory. "We demonstrated every day of the show the ability to go from digital to actual production in less than 10 hours. This technology has practical uses that manufacturers can utilize now."
Additive Presence Grows Exponentially
Multiple companies chose IMTS 2018 as their venue to debut high-volume AM systems, including HP and EOS. Stephen Nigro, President of 3D Printing, introduced the HP Metal Jet printer. Designed for high volume production, the HP Metal Jet has 50 times more productivity than any other binder jet or laser. EOS launched the M 300-4 system, a multi laser metal 3D printing system designed for digital industrial additive manufacturing.
Perhaps more than any other technology at IMTS, AM represents the opportunity for small and start-up companies, from the U.S. and abroad, to gain exposure to a large audience and grow their dreams.
"Every building in McCormick Place featured AM technology," says Eelman. "Four years ago when we produced the Strati vehicle on the show floor, large-scale AM was a novelty. At IMTS 2018, AM technology was part of the manufacturing processes used to produce the entrance hall impact units."
Smarter Solutions
ATHENA, the industry's first voice-operated assistant, debuted at IMTS in the Makino and OKK booths, as well as in AMT's ETC where visitors could control a 5-axis DMG Mori CNC.
"With 5-axis milling technology becoming more prevalent, operators need to know more to be highly productive," says Dan Bagley, VP Marketing & Sales at iTSpeeX. "People don't operate machines. People produce parts in a cell, and the machine is an actor in that cell. ATHENA provides intelligent assistance to machinists to allow them to operate multiple types of controls."
Smartforce Student Summit
The IMTS 2018 Smartforce Student Summit broke its previous record with 23,000 registrants, 6,000 more than IMTS 2016 event.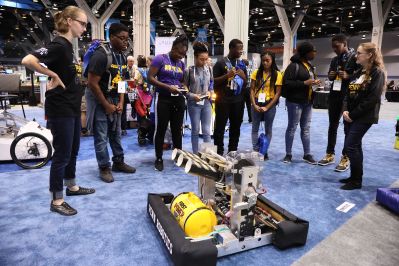 "The national conversation around STEM education has had a positive influence on our ability to attract more schools to the Student Summit," said Greg Jones Vice President of Smartforce Development for AMT.
The 2018 Student Summit gave students the opportunity to experience 25 different job functions available in manufacturing.
Technical Conferences
In total, more than 2,500 visitors attended conference sessions during the week of IMTS. The largest event, in terms of both content and visitors, was The IMTS Conference.
Presented by AMT and managed by GIE Media, The IMTS Conference attracted more than 850 people and featured 71 different sessions, each selected by a review board. Collectively, The IMTS Conference and the co-located events provided IMTS visitors with more than 142 hours of educational programming.
"The two most popular themes from the conference sessions were additive manufacturing and connected/digital manufacturing," says Bill Herman, Director, International Exhibitions and Sponsorship, AMT. Many conference attendees were looking for ways to begin their "digital journey" within their shops or how to implement next steps, as well as how they might harness additive manufacturing into their processes.
Seeking New Approaches
Visitors walked the floor of IMTS focusing on technologies, ideas, business practices and face-to-face conversations that advance manufacturing.
"What I get at the show is the ability to meet people," says Matt Guse, President of MRS Machining, who has attended IMTS since 1996. "You meet people just sitting around and talking. You share ideas, or they tell you what they've seen. Sometimes you think you've seen the whole show, and the next thing you know, someone tells you about something new in the next hall and you see how awesome it is. That's why I always say IMTS is the Super Bowl of manufacturing."
Want more information? Click below.