Siemens Latest CNC Software Significantly Improves Machine Tool Speed and Precision
With its new Sinumerik CNC software release 4.8, Siemens now includes facility for compensating unwanted axis nodding movements.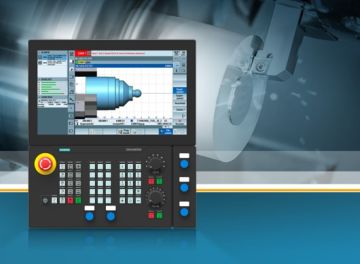 Nodding compensation (NoCo) is used to compensate for dynamic position deviations in one or more linear machine axes caused by acceleration processes. These position deviations are caused by what is known as mechanical compliance within the machine. NoCo compensates for the dominant position deviation by initiating a corrective movement in the relevant machine axis, enabling improved machining quality simultaneously with higher jerk and acceleration values.
Nodding compensation can be used in conjunction with any technology, such as milling, multi-tasking, tapping, laser machining or water jet machining. NoCo is available in two variants: Eco and Advanced. The Eco variant is designed for dominant acceleration effects in which the compensation axis is combined with one influencing variable. Where there are several influencing variables which require several compensation axes, the Advanced variant is the option of choice.
Efficient Operation with New Sinumerik Operating Concepts
The Sinumerik Operate user interface has been further developed to enable even more easily manageable and intuitive operation of machine tools. This gives machine tool builders the opportunity to develop their own individual design in keeping with their corporate identity, lending machine tools a contemporary, distinctive look.
The technical basis for these innovations is provided by a cohesive line of widescreen monitors called Sinumerik blackline plus, which come in a 16:8 format. Their design eliminates the use of any separate buttons, which have been replaced by a touch-sensitive monitor with the capability of showing and hiding a side screen. Functions formerly operated by separate buttons can be positioned on the screen, if required.
The new side screen can be used to show axis loads, alarms or tooling information. Machine tool builders can additionally extend the side screen to include their own content. The new panels are available in sizes of 15-, 19-, 22- and 24-inches.
In the basic version MCP 398C, the add-on machine control panels are identical for all the available panel sizes, but depending upon the size, they can be extended with additional modules for different functions such as buttons or slider controls.
The new operating units come in the form of thin client, monitor or PC. The TOP variant is available as a panel for Windows PCs or as an embedded solution without PC. The Simatic WinCC from Siemens provides machine builders with a convenient, adaptable, basic configuration, complete with intuitively-structured software tools, which allows the user interface to be configured simply by means of drag-and-drop. This allows machine builders to simply implement their own operating concepts and supplement them with machine-specific functions.
Want more information? Click below.