Upgraded CNC Software Offers More Digitalization and Automation While Reducing Engineering Time by 50%
With its new Sinumerik CNC software release 4.8, Siemens is making a range of new functions available to significantly improve the speed, precision and safety of machine tools.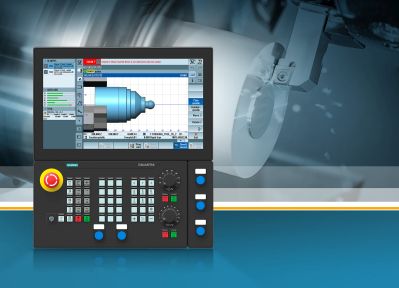 Efficient machine tool operation with Sinumerik Operate
Benefits of version 4.8 include facility for compensating unwanted axis nodding movements and protection against machine, tool and workpiece collisions. Nodding compensation (NoCo) is used to compensate for dynamic position deviations in one or more linear machine axes caused by acceleration processes. These position deviations are caused by what is known as mechanical compliance within the machine. NoCo compensates for the dominant position deviation by initiating a corrective movement in the relevant machine axis, enabling improved machining quality simultaneously with higher jerk and acceleration values. Nodding compensation can be used in conjunction with any technology, such as milling, multi-tasking, tapping, laser machining or water jet machining.
The new Sinumerik software release 4.8 also comes with an advanced collision protection: Collision Avoidance Eco and Collision Avoidance Advanced.
The Eco version enables simple, reliable machine protection by preventing collisions of the machine body with its own components within the work area. To achieve this effect in real-time, the assemblies which need protection are calculated as simple geometric bodies. This reliable collision monitoring system is available in all three operating modes: JOG, MDA and Automatic. The protected areas can be simply and efficiently engineered and visualized as a 3D image at the control interface. The Advanced variant includes full machine, tool and workpiece protection.
The software provided by the Sinumerik product partner ModuleWorks runs via an interface integrated on an external PC, and works together with the Sinumerik CNC in real-time to ensure that the machine, tool and workpiece can be continuously monitored and are dynamically protected during the stock removal process. The workpiece and tool data required is made available to the system during set-up. Collision Avoidance provides a permanent, high level of safety during operation.
Efficient Operation with New Sinumerik Operating Concepts
The Sinumerik Operate user interface has been further developed to enable even more easily manageable and intuitive operation of machine tools. This gives machine tool builders the opportunity to develop their own individual design in keeping with their corporate identity, lending machine tools a contemporary, distinctive look.
The technical basis for these innovations is provided by a cohesive line of widescreen monitors called Sinumerik blackline plus, which come in a 16:8 format. Their design eliminates the use of any separate buttons, which have been replaced by a touch-sensitive monitor with the capability of showing and hiding a side screen. Functions formerly operated by separate buttons can be positioned on the screen, if required.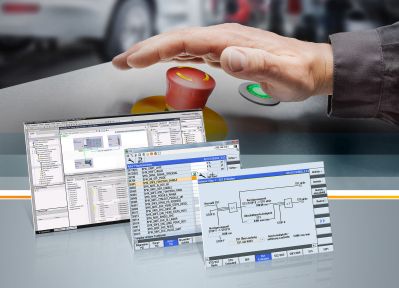 Faster engineering and commissioning with Safety Integrated plus
The new side screen can be used to show axis loads, alarms or tooling information. Machine tool builders can additionally extend the side screen to include their own content. The new panels are available in sizes of 15-, 19-, 22- and 24-inches.
Faster Engineering and Commissioning with Safety Integrated Plus
Siemens will present a new version of its proven Safety Integrated (SI) function for Sinumerik 840D sI in the form of its Safety Integrated plus -- software for integrated control solutions. Previously, completely separate programs had to be written for the NC Kernel (NCK) and PLC. Now, this will only be necessary for the PLC.
This failsafe program can be generated quickly using the PLC software Step 7, which is integrated as standard in the Siemens TIA Portal. There are a large number of certified failsafe modules available for users in the TIA Portal for this purpose which can be integrated directly into the Safety program. Using the new version Safety Integrated plus, which can be operated interactively with all of the Sinumerik 840D sI NCUs currently available, engineering times can be reduced by up to 50 percent.
Want more information? Click below.