New Deburring and Edge Rounding Machines are Fast, Economical, and Highly Repeatable
ARKU Coil Systems, Inc. will introduce its new EdgeBreaker® and EdgeRacer® deburring and edge rounding machines at Fabtech. The machines are designed to deburr and round the edges of metal parts that have been punched or cut by laser, plasma or flame.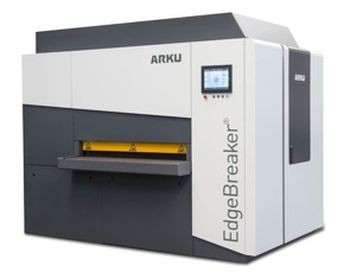 EdgeBreaker machines can remove thick slag and heavy burrs up to 3 mm on parts up to 80 mm thick and 1,300 mm wide. The machines can process parts of steel, copper, various alloys, aluminum and titanium.
The EdgeBreaker's oscillating roller self-cleans residue from the grinding belt, while sanding blocks gently round the edges on both sides. The belt is designed to provide high abrasion and allow fast changes. Sanding blocks, too, are designed for long service life and quick replacement using a patent-pending click system. Optional calibration of the sanding tools measures and automatically compensates for wear. A touchscreen PLC control saves part processing parameters for fast setup on repeat jobs.
EdgeRacer® models -- coming to the U.S. soon -- are for thinner parts up to 50 mm thick. Made by German brush-technology leader Wöhler and sold worldwide exclusively by ARKU, EdgeRacer models can remove oxide layers and handle three-dimensional parts or those with polished, brushed or coated surfaces.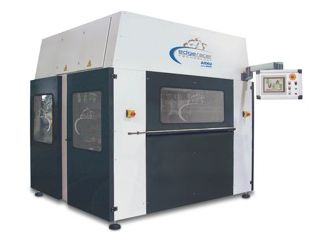 Two machine styles provide single-sided or double-sided deburring and rounding, with throughput rates of more than 300 m2 per hour. The EdgeRacer is also controlled with a touchscreen PLC which stores part processing parameters for fast setup on repeat jobs. An optional washing unit can also be integrated with the EdgeRacer for cleaning both sides of parts in one pass, before or after deburring.
ARKU's new ARVIS 4.0 coil-line control software brings coil processors higher uptime and productivity with an operator interface designed for the "mobile" generation. ARVIS software gives the operator a cockpit display of the condition and performance of a coil line's interconnected modules. Multi-touch screens, zooming and swiping allow rapid navigation. Touchscreen control for the setup of each line module, coupled with feedback from the modules and the overall line, allows an operator to control a coil line as easily as withdrawing cash from an ATM.
Want more information? Click below.
Copyright © 2020 by Nelson Publishing, Inc. All rights reserved. Reproduction Prohibited.
View our terms of use and
privacy policy
::m::