New Fineblanking Press Breaks the 200 Strokes-per-Minute Barrier
FEINTOOL (Cincinnati, OH) introduces the XFT 1500speed Feinblanking Press. Never before has a fineblanking press been so fast, so versatile and above all so productive at up to 200 strokes per minute.
"Our main goal was to take the advantages of fineblanking to a level of production that outstrips conventional blanking in terms of part quality, clean cut percentage and dimensional repeatability in sheet thicknesses of over two millimeters," states Markus Schaltegger, Feintool's head of Presses and Systems.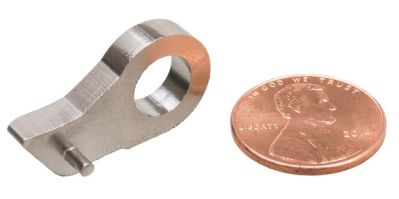 This part would normally need to be stamped and then drilled. With the XT 1500speed it was produced in one step at high stroke rates.
The 1,500 kilonewtons XFT 1500speed replaces Feintool's GKP 100/160 and MFA 1600. It is compatible with existing tools and can double their output, but achieves its true potential when using high-speed tools developed specially for it. Manufacturing costs and investment costs per part are lower with less energy consumption and press maintenance. It's even capable of turning out small batch sizes economically.
Without a gearbox, the drive motor operates at 200 RPM versus 1,200 RPM. The servo motor has a much faster dynamic response and can be programmed with absolute precision. The Feintool Motion Control unit can define acceleration, part removal and intermediate stops to an accuracy of two milliseconds. "With stroke rates this high, it was clear to us that tool safety should have special priority," says Schaltegger, If a malfunction occurs, the XFT 1500speed only needs a braking distance of two millimeters."
Fineblanking and forming are only superficially similar to conventional blanking or shearing processes. The difference is found in the precision of the process and the combination of fineblanking and forming, which opens up entirely new technical avenues in industrial series production and opportunities to maximize cost efficiency. Highly complex ready-to-install multifunctional parts can be produced economically with Feintool technology -- and with crucial cost savings compared with conventional production methods.
Want more information? Click below.
Copyright © 2020 by Nelson Publishing, Inc. All rights reserved. Reproduction Prohibited.
View our terms of use and
privacy policy
::m::