New Modular Inspection Tooling System Saved New Jersey Manufacturer $125,000 on One Part
Triangle Manufacturing Company produced dramatic QC savings with the Inspection Arsenal™ LEAN fixture concept from Phillips Precision. The Loc-N-Load™ system helped cut cycle time by 35% and nearly cut inspection time in half.
Triangle Manufacturing Company, Inc., established in 1955 by William F. Strohmeyer and two other enterprising engineers in a suburban New Jersey garage, has grown steadily over three generations to become a leading provider of highly complex, tight tolerance surgical implants, medical instruments and powered hand tools. Today, Triangle employs nearly 200 employees in four dedicated state-of-the-art manufacturing facilities in Upper Saddle River, NJ.

Triangle specializes in the precision engineering and manufacturing of highly complex, tight-tolerance machined parts like these.
Triangle maintains its competitive edge by continually investing in new equipment, technology, and talent. Some of the key productivity improvements, perhaps overlooked by other companies, are those being made in its quality inspection department. Triangle recognizes the importance of designing a robust and LEAN quality system that supports all phases of its projects. A system that exposes and eliminates hidden expensive, non-value-added steps resulting in faster inspections to keep shop floor spindles cutting chips.
A key piece of Triangle's faster, LEANer quality control puzzle has been fixturing. While training at Methods Machine Tool Sales of Sudbury, MA (the Carl-Zeiss certified Northeast Training Center), several members of Triangle's inspection team were introduced to Inspection Arsenal™ fixture plates and work holding. Methods' state-of-the-art metrology lab showcases this LEAN concept fixture system designed and manufactured at nearby Phillips Precision, Inc. of Boylston, MA. The inspection team realized that the design concept of modular, fast-swap fixturing could fundamentally change the way they think about inspection.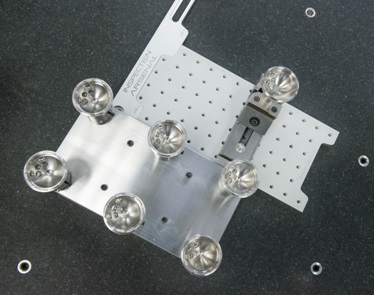 In this photo two Loc-N-Load™ plates are shown in use. A simple pre-existing plate employing custom holders is secured to a 6x6" Loc-N-Load™ plate in order to take advantage of the quick-swap feature.
A group at Triangle experimented with one Loc-N-Load™ system to quantify the benefits. After making dedicated fixtures for each job, they started to see a reduction in set-up time, averaging only 5-6 minutes per set up. With over 300 different programs running at different times, this decision became very simple: Standardize on the Loc-N-Load™ system.
They started working on a new family of complex implants from the DFM/DFI (Design for Manufacturing / Design for Inspection) stage through first article inspection with production scheduled for the Spring. This project involves 100 percent inspection of Critical to Function Characteristics.
One hurdle they faced was the cycle time of the Coordinate Measuring Machine (CMM). The cycle time on the original programs was almost equal to the total machining time of the part and needed to be reduced significantly to keep up with production.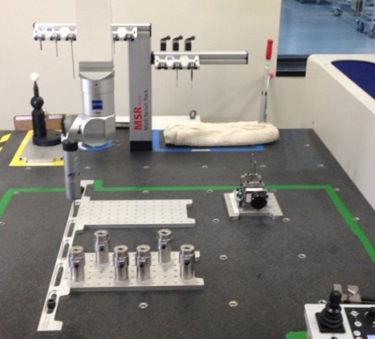 In this photo, the same holders are affixed to a standard Loc-N-Load™ plate to perform the same inspection and take advantage of the fast-swap feature of the plate system.
They purchased the Inspection Arsenal™ Loc-N-Load™ system for this project and made fixtures so that multiple parts can run at a time. These quick disconnect fixtures reduced the CMM set up time by 12 minutes per part (an average of 3 minutes per operation). This fix, combined with other improvements, cut total cycle time by 35 percent. The Loc-N-Load™ system proved to be so valuable in reducing set-up times that they are making this the new standard for fixturing their CMM's.
The initial product launch described consists of 3,120 complex parts requiring 100 percent inspection. Previously, the time to inspect was nearly one hour per piece. The new, LEANer process now takes just 35 minutes. If a $100/hour rate is used, the savings in the inspection cycle time alone for this part equates to roughly $40 per piece or a savings of approximately $125,000. Much greater savings being realized, but not calculated, are the savings in set-up time and the reduction of expensive spindle down-time on the shop floor. This one project, once approved, will require the inspection of thousands more pieces and is just one of the hundreds of parts manufactured by Triangle that will now become a great deal more profitable.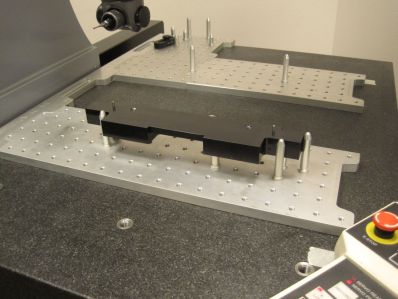 Inspectors can choose from a variety of Inspection Arsenal™ work holding in addition to other compatible and readily-available components on the market.
Implementation of the new fixture system has been very easy, further reducing training costs. With at least six Quality Engineers and more than a dozen Inspectors, the importance of building redundancy in equipment and tooling is essential to quickly bringing staff up to speed to perform faster inspections.
Phillips Precision Business Manager, Catherine Phillips says, "Whether you're a job shop or high production manufacturer, this new LEAN approach to part inspection makes traditional one-piece plates a thing of the past." Since the plates are ready-made and in stock, customer orders can ship same-day, eliminating long wait-times to fixture.
Want more information? Click below.