New, Revised Guide a Must-Read for Anyone Interested in Laser Safety
For the first time since 2007, the Laser Institute of America has updated its acclaimed Laser Safety Guide, making it a necessity for every safe laser environment. Easy to comprehend and full of practical information, the Laser Safety Guide is a quick read that can benefit anyone who uses lasers in their workplace.
The Laser Safety Guide has been revised to comply with the new terminology and guidelines of the 2014 edition of the ANSI Z136.1 Safe Use of Lasers standard. It can be used in conjunction with or as a supplement to any of the ANSI Z136 standards.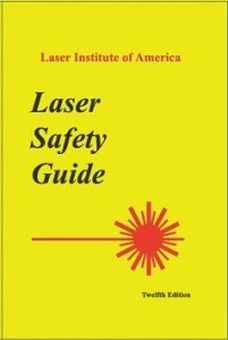 "The new Laser Safety Guide is an update of the document that reflects the dramatic changes in the ANSI Z136.1-2014 standard. The guide is a fundamental tool for any laser safety expert who desires to develop and advance a laser safety program or execute laser safety for a single laser," says Ben Rockwell, prior chair of the ANSI Z136.1 rewrite committee and editor of the revision for the Laser Safety Guide.
Rockwell recommends everyone who uses lasers have this guide. "It is geared toward the beginner in laser safety, but would benefit even the most seasoned expert. The guide progresses through fundamental concepts of laser safety, with examples where they provide an understanding of the application of the standard."
The guide can also be used as reference material when using the ANSI Z136 standards. The ANSI Z136.1 standard, the cornerstone of any laser safety program, can often be confusing for those unfamiliar with the terminology or unaccustomed to laser use practices. The Laser Safety Guide with its concise layout and helpful appendix can be a useful tool "during training to outline the concepts of the ANSI Z136 laser safety standards. The guide also serves as an excellent source of information to design a refresher course in a laser safety education program," says Rockwell.
Whatever skill or experience level, industry or application, the newly revised Laser Safety Guide is the perfect tool to ensure proper laser safety at your place of work.
Want more information? Click below.
Copyright © 2020 by Nelson Publishing, Inc. All rights reserved. Reproduction Prohibited.
View our terms of use and
privacy policy
::m::