30-Ton Overhead Crane Stands the Test of Time -- A Testament to U.S. Manufacturing
Vital 85-year-old crane now a video star in underground New York power plant that Hitler's spies couldn't kill.
An 85-year-old overhead crane provided the ultimate testimonial to the quality of American manufacturing recently when it was discovered still in good working condition 10 floors below Grand Central Terminal in the middle of New York City.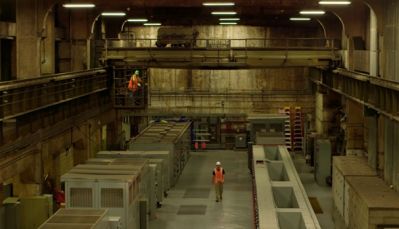 The Whiting crane as featured in a new video emphasizing the quality of U.S. manufacturing.
The 30-ton Whiting double girder crane was spotted when it was featured in an historic film about how spies sent by Hitler tried to cripple the rail transport system in the northeastern United States during WWII and bring 80 percent of rail traffic to a standstill.
The spies landed by submarine off the east coast and aimed to sabotage nine AC-to-DC electric rotary converters that powered passenger and freight trains in the northeastern U.S. They were caught and sentenced to death by a military tribunal.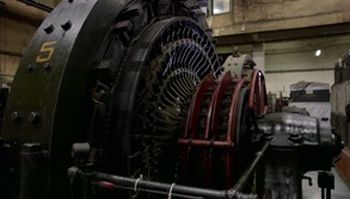 After WWII, the crane played an important role in key upgrades, including the removal of old convertors like this one.
The spies planned to pour sand into the converters, which provided energy for thousands of miles of overground and underground rail vital to the war effort. Had they succeeded, the crane, located above the converters, would have been charged with the vital task of lifting into place the generator components that it was commissioned to install and maintain way back in 1929.
"This crane is a time machine. It represents all that's best in American manufacturing, a quality ethos to which we still subscribe today," says Whiting Corporation President Jeff Kahn, who commissioned a new video about the remarkable machine which is still as serviceable as the day it was built.
The video features Historian Dan Brucker delving deep into the past of the underground power plant located beneath one of the world's major transportation terminals, through which 750,000 commuters pass every day.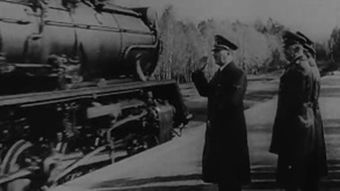 Adolf Hitler's plot to disable the crane was foiled.
Few today realize the plant's importance, but back then it was manned by army snipers because of its importance to the war effort -- a strategic fact recognized by Adolf Hitler who was informed of the facility's existence by a German spy. Fortunately, his sabotage plot was foiled, but, if it had succeeded, the Whiting crane would have provided the muscle needed to rebuild and power the railroads.
After WWII, the crane played an important role in key upgrades, including the removal of old convertors and emplacement of new rectifiers, feeders, transformers and generators in a program extending through to the early 1990s. It also replaced burnt-out transformers with such speed and efficiency that not one of 700 trains a day was delayed by one New York minute.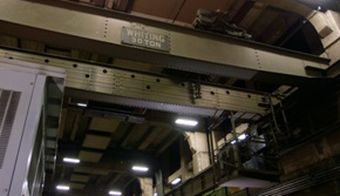 Today, Whiting's custom cranes and railcar lifts are used everywhere in the U.S.
"The engineers who built this crane were pioneers in custom-built overhead cranes. They knew what they were doing -- but I don't think even they could have imagined its remarkable service life," says Mr. Kahn.
Today's Whiting Corporation -- based near Chicago in Monee, Illinois -- built its reputation on skills and traditions extending back generations by maintaining a dedicated engineering force with many team members whose service experience exceeds 30 years.
"Down through history these cranes were hand-built by highly skilled engineers and craftsmen of the day. And it is no different today at Whiting Corporation, where we still believe in in-house engineering and in-house manufacturing right here in the USA," says Mr. Kahn.
"We have plenty of examples where Whiting Cranes have lasted more than 75 years in major manufacturing plants such as Ford, for example, and they are still going strong. Today our custom cranes and railcar lifts are used everywhere in the U.S. Whiting builds custom cranes for power plants, automobile factories, metro transportation hubs, NASA -- just about every heavy industry.

Whiting cranes today are used nationwide in not only rail applications, but also in a host of precision, safety conscious applications extending from space programs and manufacturing to nuclear and conventional power plants.
"Technology has evolved to the forefront of precision manufacturing, but reliability, robustness and leadership in safety are still hallmarks of the brand.
"Unlike those who believe the Golden Age of America manufacturing has passed into history, we believe there will always be a place for quality and reliability, backed by onshore service teams.
"We have some of the best manufacturing technology in the business, but technology alone can't give you innovation and excellence. That has to come from the people who make the product, our designers, our engineers and our service staff who follow it out into the field, where they ensure minimum downtime and maximum safety. It's a home-grown package that works for us," says Mr. Kahn.
To watch video, click below.