Modular Production Line System Provides Flexibility and Profit for Auto Supplier
Automotive suppliers often face a dilemma: They need to maximize production in order to realize their narrow profit margins; but they don't profit by relying on dedicated machines. This does not have to be the case, as in the example of a Licon production line system at Plauen Automobile Technology GmbH.
Plauen Automobile Technology GmbH (PAT) was founded in 2002 with the objective to implement complex manufacturing projects featuring the highest quality, flexibility, and availability. It has since developed into a recognized vendor for precise processing of technically sophisticated aluminum die-casting parts for the automotive industry. Today, PAT has grown to 174 employees and is a technology leader in the area of aluminum processing.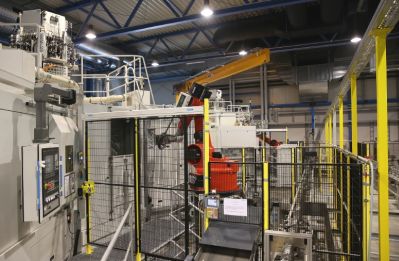 Licon's system for producing cylinder head covers is linked via a transport belt and supplied by an articulating arm robot.
The largest customer is Schweizer Group, a global provider of innovative die-casting solutions for aluminum and magnesium. Schweizer Group mostly supplies complex components ready for installation directly to VW, Daimler and General Motors. Via large supplier companies such as Continental, other OEMs are supplied as well (ie. Jaguar, Volvo, Audi, Daimler).
Quantities of 100,000 to 1.2 M Parts
Jörg Burmeister, managing director at PAT, describes his company's strengths as follows: "Our main focus is the highly accurate and flexible mechanical processing of aluminum die-cast components, of which we produce around 100,000 to 1.2 M pieces per year. Among others, we have focused on the field of cylinder head covers as a functional component, or control housings with integrated oil pump -- for which we cover all processes, including cleaning and final inspection.
"All production components are produced according to the respective quality and purity provisions required and provided to our customers just in time," adds Burmeister.
Modular Setup Secures Shorter Delivery Periods
One of the leading automotive manufacturers -- looking for an external supplier for finished cylinder head covers -- also found PAT on the list of potential partners and placed an order with the company.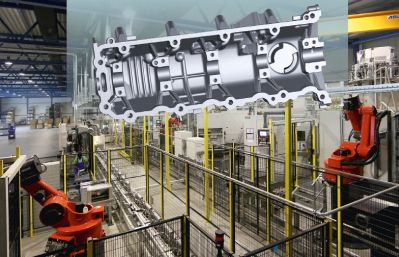 Licon's system created for PAT has exceeded the annual goal of 500,000 parts produced.
"Originally, the corresponding cylinder head covers were produced directly at the manufacturer's site," says Sö ren Schreiter, technical manager at PAT. "The pending production expansion was to be outsourced to us. They were looking for a supplier who was able to comply with the high quality specifications, but also able to implement the machine in question in an acceptable time frame.
"In the monolithic cylinder head cover for this motor, the cam shaft bearing bore must be processed in addition to many operations that can be machined on standard machines. For this bore, the cam shaft bearing's seats must be processed along a length of approx. 500 mm and have a concentricity of less than two hundredths."
This task can't be solved by just any manufacturer, since an annual volume in excess of 500,000 parts requires lots of experience and know-how, which considerably restricts the amount of potential providers. Coincidence helped PAT out in the end. On the fringes of a project discussion with Licon mt for an entirely different task, PAT officials mentioned the above cylinder head covers and it turned out that Licon had already implemented a similar system for VW Salzgitter before.
Machining Completely with MQL
From there, things went relatively quickly: A delegation from PAT was allowed to inspect the Licon system in Salzgitter in detail, and to convince themselves of the system's performance capability. What they saw absolutely convinced them. The agreement was made rather quickly and the order was placed.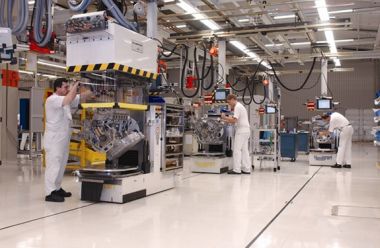 Licon has implemented a similar modular production line system for VW Salzgitter.
Sören Schreiter: "The plant consists of in-series machines, including a special machine with four clamping devices, two machining stations linked with each other via a transport belt and fed by a Reis articulated arm robot. From there, the cylinder head covers go thru a cleaning system and then a pressure check."
The complete machining is performed by MQL (minimum quantity lubrication), without use of coolants, even when reaming the bearing bores.
"Being able to cover the high accuracy requirements for concentricity of the bearing bores and straightness of the sealing faces process reliably is specifically due to the clamping solution found by Licon in coordination with the in-house tool supplier Mapal WWS. The cylinder head covers have only a limited stiffness after all," says Schreiter.
Jörg Burmeister is also happy with the solution found: "The overall system designed by Licon represents a solution of high competence and is 100 percent in conformance with our specific requirements. In some aspects it is even exceeding requirements. The cycle time for complete machining just exceeds 30 seconds, with the higher-than planned availability of the complete line even exceeding the required annual productivity of 500,000 parts."
Customer-Specific Solutions with the Lego Principle
For Winfried Benz, managing director of Licon mt, the technical ability of the system that was achieved is anything but a surprise: "The special machine for highly precise processing of the bearing bores was configured from modules of our modular LiFLEX build kit. In this context, I really don't like the term 'special machine'."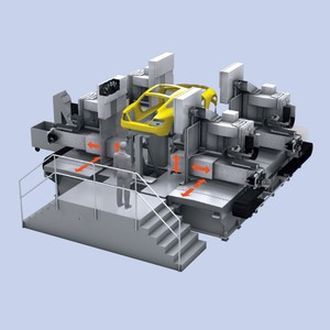 Licon's LiFLEX build kit can configure modules to form a "special machine."
This usually is associated with high risk and high procurement costs. For our customer specific solutions designed from our "LiFLEX" construction kit similar to the Lego principle, I prefer the term of task-specific individuality from a reliable standard.
"Only this way can we insure that our customers receive an economical and technical solution that pays off in the long run.
"The consistent modularization makes our customer-specific solutions anything but pure single-purpose machines. The same modules are used in our 1- and 2-spindle LiFLEX machining centers and perform up to their robust design there as well," adds Benz.
Want more information? Click below.