Danish Manufacturer Adds 42 Robots; Creates 50 New Jobs in the Process
For years, Trelleborg Sealing Solutions researched the market in vain, trying to find a robot suitable for its production needs. Universal Robots turned out to be the solution. In 2 ½ years, the plant has installed 38 UR5 robots and 4 UR10 robots followed by swift gains in productivity; orders have risen so sharply that 50 new employees were needed at the factory in Helsingør, Denmark.
It was time that Trelleborg Sealing Solutions found an effective way to optimize production; Customers were demanding lower prices, higher quality and faster delivery, global competitors were gaining on Trelleborg in market share, while Trelleborg's own factories in lower wage countries also presented a challenge to the Danish manufacturer.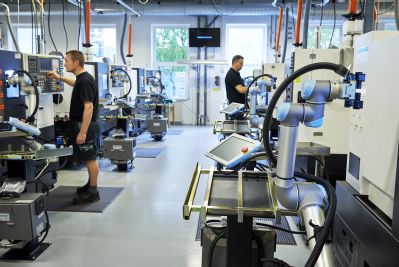 The robots at Trelleborg enable one worker to manage a cell with 8 CNC machines running at a time.
The Production Manager at Trelleborg in Helsingør, Jesper Riis, is relieved to have finally found a suitable automation solution for the factory's production of seals. The advanced seals are often used in high-performance equipment in cars and aircraft as well as many other industrial contexts.
"For 10-15 years, we researched the market for suitable robots, but every single one we looked at required safety shielding. It made them unattractive for us, since we are unable to extend the actual production area at our factory in Denmark," says Jesper Riis.
The challenge was not made any easier by the fact that Trelleborg for some years now has been undergoing a major modernization of its machinery. Older machinery and turning machines are being replaced by modern CNC machines, which enhance the quality of the finished items and also improve speed.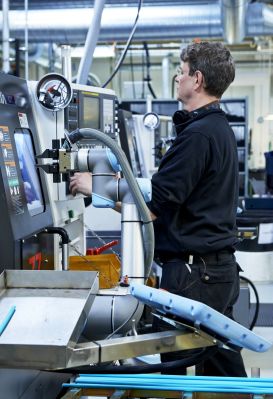 Workspace constraints favored the use of Universal Robots in Trelleborg's production, where there is no possibility of extending the area.
Minimal Space Advantage
"Because the CNC machines take up far more cubic meters of space than an old-fashioned turning machine, very flexible and small robots were needed to automate the attendance of these machines. The robot arms from Universal Robots were the only ones which would fit because, based on a thorough risk assessment, they were in most cases allowed to run without safety shielding. So now we purchase a UR-robot for each new CNC machine we buy," says Riis.
Globally, 80 percent of all UR robots in industry have been risk-assessed for operation without shielding. At Trelleborg Sealing Solutions, all 42 UR robots operate unshielded. Many of the CNC machines which process seals now typically operate unattended for about an hour or as long as there are items left on the racks.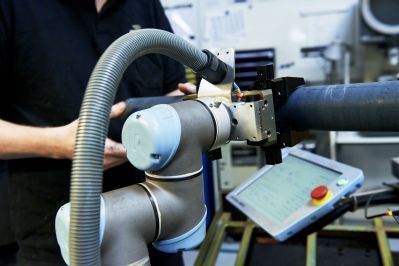 Trelleborg uses gripping tools from Schunk on UR robots. The Danish robot arm can communicate with virtually any brand of gripper.
Short ROI was a Requirement
Most of the robots are fitted with a gripping hand from Schunk. The Danish lightweight robots have been a part of the workforce at Trelleborg since 2012 operating on continuous shifts.
The Trelleborg Group has a target of a maximum of 1 ½ years payback on new investments. The robots deliver this: they have, on average, paid themselves back in a year and a half.
Hello to the New "Colleagues"
Just as new key employees in a company are often introduced to the staff on Day 1, the management in Trelleborg felt it was essential, for the success of the project, that the 330 employees should be involved in the plans well in advance. They were therefore introduced to the coming robot colleagues -- or cobots, as they are also known.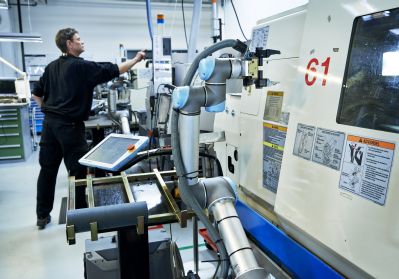 Employees at Trelleborg can easily reassign the robot and gripper to items of other sizes. The intuitive programming takes place on the touch screen tablet.
"We wanted to show them that the robot is a helpful colleague, not a competitor. It can help to make their work less stressful and more interesting, while also ensuring that they have a job with our company in the future," added Riis.
A Fascinating Paradox
The robots at Trelleborg enable one worker to keep a cell with 8 CNC machines running at a time. Previously, one employee attended to 3 CNC machines. As a result, Trelleborg has saved 1 ½ employees per cell per shift. But no employees were fired during the period due to automation. Quite the contrary. The robots are creating more jobs, because new orders are now coming in at a conspicuous rate: a total of 36,000 orders are now being placed with Trelleborg annually. The orders range anywhere from 1 unit to series of several million. And Trelleborg has taken on 50 new employees within the last two years, increasing the number of employees to approximately 330.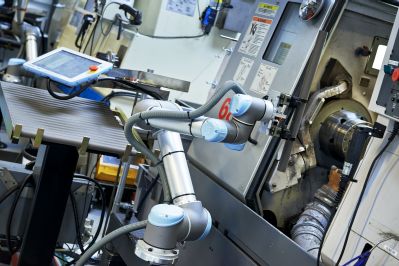 The introduction of robots at Trelleborg Sealing Solutions has meant that the company can use the workers more effectively.
"We use our machines much better with robots, and our products have never been more uniform. Basically, this means that we have become competitive and that our turnover and earnings are increasing, especially as far as large series are concerned. It's been tough to get so many robots into operation in 2 ½ years. But it has also been fun and exciting and given us a tremendous boost because everything clicked so well. Now things have become so routine that it just takes us and the integrator 3 days to install a new cell with eight new robots and put them into production," says Head of Production Technology, Henrik Tørnes.
Always Have a "Job-Seeking" Robot
Trelleborg Sealing Solutions keeps a new robot available in their machine-building department, which the employees can experiment with to find the next automation task. When the task for the robot is found, it is implemented and Trelleborg Sealing Solutions purchases a new "job-seeking" robot.
"Even the way of thinking in the company has changed, so now we think a robot into wherever there are opportunities to optimize with the help of automation," concludes Production Manager Jesper Riis.
Want more information? Click below.