Boeing, GE Aviation, and Honeywell Aerospace Make the Case for 3D Printing With Laser Sintering
Aerospace industry titans Boeing, GE Aviation, and Honeywell Aerospace are among those documenting the strong case for end-use production with laser sintering, an industrial 3D-printing technology from EOS.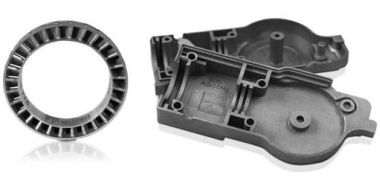 Left: Rotor laser-sintered from nickel-based superalloy. Right: Metal assembly laser-sintered from aluminum casting alloy.
By speaking during the North American User Day (NAUD) on September 10th at IMTS, they, along with other customers and partners, will chronicle their successes applying AM for product manufacturing.
This is the first time the NAUD is being held at IMTS -- and the first time the full-day event is open to all show attendees.
"IMTS is an ideal venue to demonstrate how Additive Manufacturing fits in with existing subtractive technologies as part of a process chain," says Andrew Snow, senior vice president, EOS of North America, Inc. "Historically, EOS has held the NAUD to better serve and educate our customer base. Now, opening the presentations to everyone also provides all IMTS attendees the opportunity to network with experts, industry leaders, and each other -- to learn about the roadmap ahead and the success of early and current industrial 3D-printing adopters."
"Events like the NAUD are instrumental in educating manufacturers about Additive Manufacturing and helping fast-track it onto the production floor alongside traditional processes," says Ed Morris, director of America Makes, the National Additive Manufacturing Innovation Institute. "As organizations recognize the competitive advantage this technology offers -- everything from optimized product designs to value optimization through streamlined supply chains and reduced inventories -- we want to help them accelerate their implementation of this innovative technology."
During IMTS, EOS will also demonstrate one of their latest direct metal laser-sintering (DMLS™) systems, the EOS M 290, which processes a variety of metals including titanium, cobalt chrome, stainless steel, aluminum, and nickel alloys.
Want more information? Click below.