Most Exciting Attractions at IMTS Include Race Cars, Space Cars, and 3D-Printed Electric Cars
The 30th edition of IMTS is on track to rank among the four largest IMTS events covering more than 1.2 million net square feet of exhibit space and hosting more than 1,900 exhibiting companies. The show will be held at Chicago's McCormick Place Sept. 8-13, 2014.
The show theme for 2014 is "Come Together" and is a call to action for the entire IMTS community. IMTS will host more than 100,000 industrial decision makers from more than 110 countries. They attend to see more than 15,000 new machine tools, controls, computers, software, components, systems and processes that can improve their efficiency. They also gain valuable ideas and insights from the world's leading equipment producers. They come to learn, to look, to buy and to network.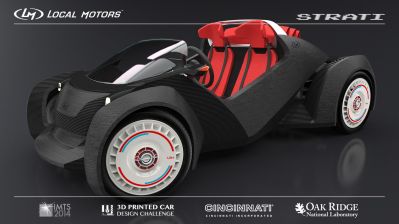 AMT's Emerging Technology Center
The number one "wow" factor in AMT's Emerging Technology Center (ETC) is sure to be the complete construction of a 3D-printed electric car by IMTS partner Local Motors. Local Motors will build and deliver the first direct digital manufactured vehicle at IMTS.
Advanced Manufacturing Center and Today's Technology Center Plan Exciting Features
Today's Technology Center (TTC) is the IMTS stop where visitors can immerse themselves in incredible technology from the aerospace, automotive and medical sectors. Visitors to the TTC can expect to see:
Two excellent representatives demonstrating advanced manufacturing in aerospace. There will be a 1/3 scale model of the Dream Chaser® Space Utility Vehicle being developed between Sierra Nevada Corp (SNC) Space Exploration Systems product line and Siemens PLM Software Group. The aerospace display also spotlights aerial target drones, built by Composite Engineering, Inc., capable of flying at various altitudes and speeds that serve the needs of the U.S. Department of Defense and friendly nations around the world.
Two all-American car dreams stand out. A 2015 Chevrolet Corvette that pushes the boundaries of materials, engine and transmission technologies is sure to excite the community. And, Stewart-Haas Racing, an exciting team in the NASCAR Sprint Cup series, is bringing the No. 41 Kurt Busch Chevrolet SS, which can reach a top speed of over 200mph.
Want more information? Click below.