Collaborative Robot Helps Manufacturer Rack Up 40% Increase in Sales
Installing a Universal Robot to pick metal parts out of a press brake solved several automation headaches at Etalex; a Canadian manufacturer of shelving systems that had no room for safety guarding in front of the press and needed a flexible user-friendly robot able to safely handle the pick and place tasks in a high traffic area.
Founded in 1966 in Montreal, Canada, Etalex manufactures commercial interiors, specializing in metal fixtures, shelving, wood furnishings and heavy-duty racking systems.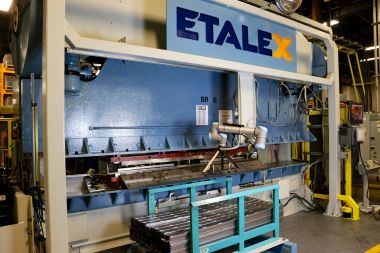 A UR10 from Universal Robots unloads metal parts at a press brake at Canadian manufacturer Etalex in Montreal. Installing the UR10 has made the workplace safer and optimized production, freeing up seven man hours per day.
When entering the vast 300,000 square foot production hall at Etalex, your first encounter is Universal Robots' UR10 diligently unloading metal parts of various shapes and sizes into a large press brake. After the press punches holes in the parts, the robot arm's pneumatic suction cups pick the piece back up and stack them in a patterned pile on a cart. As this happens, employees pass back and forth in front of the robot in the busy hall.
Compared to the other 25 robots in operation at Etalex, all placed behind sturdy safety fencing, the Universal Robots application is an unusual sight. The UR robot belongs to a new breed of robots dubbed "collaborative robots" as the built-in force control limits the force at contact and does not cause bodily harm, enabling them to work right alongside employees.
Unlike more traditional industrial robots that normally stay bolted down in one spot, the lightweight UR robots can also quickly be moved and reprogrammed for various production tasks.
Frees Up 7 Man Hours Per Day
Plant Engineer with Etalex, Jean-Francois Rousseau, was eager to try out this new type of robot.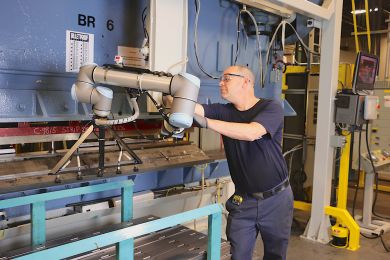 Operating a collaborative robot means that employees can work alongside the robot without any safety guarding after a risk assessment has been conducted.
"We needed a flexible automation solution that could be used for 10 different production cycles. Since I only have 6 feet of space in front of the brake press, it was important that I could run this application without safety caging around it."
Before the arrival of Etalex' new robot colleague, an employee would manually unload the press brake 8 hours a day. The manual tasks have now been reduced to an hour daily spent on inspecting the quality of each pallet and changing the coils, resulting in an estimated ROI of about 12 months.
The Safe Choice
Machine operator at Etalex, Richard Clive, stresses how the UR10 has made the work place "100 percent safer."
"Before, you had to put your hands close to the brake press. There's always a chance of an accident happening at any time. But with the Universal Robots, there is no chance of anyone getting injured."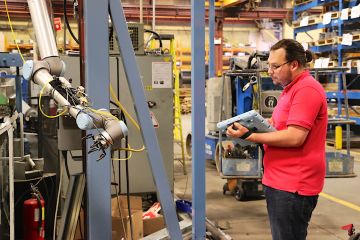 A programmer at Etalex is busy programming the company's next UR robot installations.
Prior to installing the UR10, Etalex got the approval from the Commission de la santé et de la sécurité du travail du Québec (CSST) (Occupational Health and Safety Commission), which approved the use of collaborative robots at the factory.
Even though the risk assessment deemed the robot able to run without safety guarding, Jean-Francois Rousseau decided to install a zone sensor that causes the robot to slow down once an unknown object enters its work space.
"This wasn't strictly necessary but having the robot slow down to 20 percent is reassuring for employees just getting used to working with robots unguarded."
Learning By Doing
Differentiating the UR robot from its caged peers is also the ease of use. Programming happens on an intuitive touch screen tablet where the user simply presses arrow keys to make the robot move to desired positions. Another option is to put the robot in "teach mode," a feature that Alex Pichette, a programmer at Etalex, has used extensively.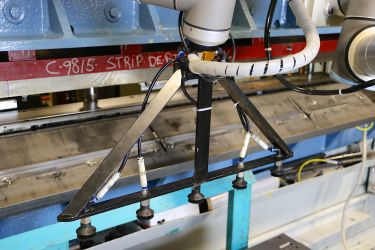 Etalex equipped the UR10 with an in-house produced gripper featuring four pneumatic suction cups.
"The teach mode allows you to simply grab the robot arm and show it what moves to perform. Instead of having to go back to a keyboard and enter new data, all programming happens right there on the floor next to the robot. That has saved us a lot of time."
40% Increase in Sales
Savings is key at Etalex where Director of Operations, Jean Piuze explains that 60 percent of the company's cost is the purchase of steel for the metal racks.
"That means that we have to optimize our production significantly to stay competitive and reduce costs. Automating with robots is the only way we can do this," says Piuze.
"As a result, we've had a 40 percent increase in sales, which also means that we did not need to lay people off because of automation. They have now been freed up to perform more challenging tasks than simple pick and place routines."
UR Wherever Possible
Etalex is currently working on new robotic cells with two additional UR10s in palletizing applications: one for galvanized shelving and the other for reinforcement channels for shelving. Originally, Jean Francois Rousseau did not think the UR robots could handle these tasks.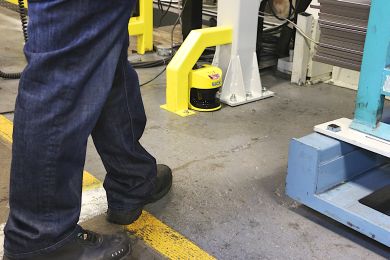 Though not strictly necessary, Etalex has installed a zone sensor as an extra safety precaution for employees not used to work with unguarded robots. When a person crosses the yellow line and enters the work zone, the robot slows down to 20% speed.
"It required a fast 3 second cycle, but we figured out a way to create a gripper for the UR robot that can handle 7 parts in the same cycle instead of one -- which meant that we could easily allow the cycle time to be 20 seconds. Our preference now is to use the UR robots wherever possible."
Since being introduced to the Canadian marketplace in 2013, the UR robots are now used in a wide range of industries throughout the country. Applications have ranged from simple machine tending, arm actuators for UGV (unmanned guided vehicle), basic and complex automation/material handling on production lines as well as numerous lab applications and traction within the medical device marketplace.
Want more information? Click below.