New CMM's Increased Measurement Volume Makes It Ideal for Small Scale Parts
Hexagon Metrology has released the Optiv® Classic 443 tp, the newest model in the Optiv Classic series. Each unit comes touch probe-ready and includes a high-resolution CCD (charge-coupled device) camera for multi-sensor applications with micro- to nano-scale precision measurement requirements.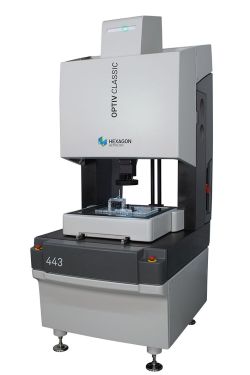 The Classic 443 tp boasts a first term accuracy of 1.9 microns, making it ideal for the inspection of small scale features and parts like micro-hole dies, sieves, filters, fiber optics and inkjet nozzles as well as complex, densely populated precision parts from the medical, aerospace, electronics or automotive industries. This entry level, high-capacity multi-sensor CMM (coordinate measuring machine) provides over five times the measurement volume of its smaller brother, the Optiv Classic 321GL tp.
Highlights of the Classic 443 tp's innovative vision technology include calibrated lighting, a high resolution color CCD camera, and a multi-segment LED triple angle ring light to create better contrast for edge detection. The multi-sensor CMM features a 12x CNC motorized zoom for continuous adjustment of field of view and resolution, and an LED status indicator providing a quick visual check of the machine's status.
The Classic 443 tp comes standard with PC-DMIS® Vision image processing software and optional online 3D CAD capabilities for live programming of the machine to compare measured values to nominals. The software includes the groundbreaking MultiCapture feature which finds all 2D characteristics in the field of view, regardless of their type, and measures them simultaneously. MultiCapture then moves the camera to the next cluster of features and measures them. This sequence continues until the inspection program is complete, and is automatically optimized by creating the most efficient path with the fewest number of stage movements. Inspection speeds increase by 50% or more, depending on feature size and density, which can significantly raise throughput.
"The Classic 443 tp offers increased capacity, without sacrificing accuracy, in a truly innovative multi-sensor CMM," states Dan Farnsworth, Product Manager for Hexagon Metrology. "The increased measurement volume makes it ideal for palletized parts and offers good accessibility to the measuring table from all sides. It is the perfect fit for high-volume measurement of small, tightly toleranced parts."
Want more information? Click below.