Aerospace Dynamics International Increases Titanium Machining Capacity 40% as Part of $90 Million Expansion
Aerospace Dynamics International, Inc. (ADI) will increase its titanium machining capacity approximately 40 percent to support Airbus A350 and Boeing 787 programs with a $90 million investment that includes a new 120,000-square-foot facility and acquisition of eight five spindle, five-axis MAG XTi profilers.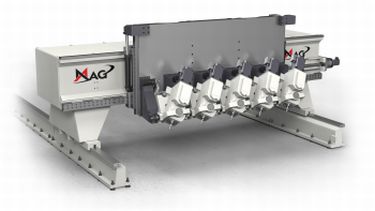 Upon completion, the expansion will give ADI approximately 600,000 square feet under roof, and require more than 200 new employees to fully staff the operation. This new order follows ADI's 2011 purchase of two MAG five-spindle three-axis XTi profilers, which were part of an earlier plant expansion that included two MAG U5 portal mills and two MC 1600 boring mills. In addition to machine tools, ADI purchased tooling and applications support from MAG's Productivity Solutions business, and Freedom eLOG® factory monitoring software from MAG Delta 4. According to MAG, ADI's $36 million machinery purchase is one of the largest single aerospace orders in the history of the company in terms of total value and number of spindles.
"We are producing some significant titanium assemblies and sideframe components for the Airbus A350 that require lots of heavy machining, and we expect these machines to fill a big role in reaching our contracted ramp-up rates," said ADI President and CEO John Cave. ADI - part of the privately held Marvin Group in Southern California - is an award-winning supplier for leading aerospace OEM's, including Lockheed Martin, Boeing, Airbus, Spirit and others. Its primary contracts include the Boeing 737, 777 and 787; the Airbus A330, A350 and A380; and the Lockheed Martin F-35. The Boeing Company and Spirit AeroSystems named ADI a 2011 supplier of the year.
A New Multi-Spindle Gantry Design for ADI
The new 5-axis gantry design utilizes the same high-stiffness frame as the three-axis XTi, which set a titanium metal removal record of 90+ cubic inches per minute in runoff for ADI. "The three-axis version of this machine really proved itself, and the new five-axis version builds on this platform," Cave said. "We set demanding requirements for the five-axis machines, and MAG stepped up with a complete new approach that is superior to anything else on the market. This is a major breakthrough in gantry design that gives us capabilities we never had before. Setup will be easier and accuracy will be on par with the three-axis design. The rotary axes on each spindle can be independently calibrated and controlled to enhance accuracy and simplify setup. And for three-axis roughing operations, the rotary axes can be automatically locked for additional control over the final machining setup."
The 40 spindles will be carried on eight individually controlled gantries, with four gantries each mounted on two pairs of 91.4 m (300 ft) X-axis rails. The gantries span a 6 m (20 ft) Y-axis, with a Z-axis depth of 711 mm (28 in). The work envelope between each pair of rails will total 1,300 m2 (14,000 sq ft). Each spindle's angular A and B axes can travel plus/minus 30 degrees, with accuracy ensured by digital scale feedback. For ADI's application, the machines are equipped with 52-kW (70 hp), 7,000-rpm spindles, and each spindle can deliver up to 1,345 Nm (986 ft lb) of torque into the cut at 40-7,000 rpm. The standard XTi spindle is normally rated 51 kW (68 hp), 3,500-rpm, and produces 2,523 Nm (1860 ft lb) torque.
"A multispindle machine that can rough and finish titanium at this rate gives us a real competitive edge," Cave explained. "A single-spindle machine runs at roughly the same speeds and feeds, yet our machines complete five parts in the same cycle time, so we are much more efficient than we could be with individual machines. In addition, our infrastructure overhead is reduced, compared to what we would need for 40 discrete machines on the floor."
MAG introduced the original-model Ti profiler in 2007 in response to surging demand for aerospace titanium parts. "When the OEMs decided to use composite fuselages, we knew the substructures would have to be exceptionally strong and rigid, probably requiring titanium, so we switched our emphasis from aluminum machining to Ti," Cave said. "This really paid off for us as the percent of Ti in aircraft skyrocketed. Looking at our backlog, we are already considering whether to add another pair of X-axis rails for some additional three-axis machining capacity in our new Building Seven."
Want more information? Click below.