New Technology to Allow DMG/Mori Seiki Users to Start Cutting Parts Immediately
Gibbs and Associates has announced its leadership role in supporting phase one of the DMG/Mori Seiki standardization initiative. It will ultimately provide DMG/Mori Seiki customers a smooth and reliable flow of programming data from any CAM system to DMG/Mori Seiki machine controls.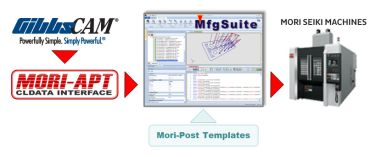 This will enable the full use of the features of their machines and controls without the need for custom post-processors or machine simulation models. The technology is based upon DMG/Mori Seiki"s implementation of the standard APT (automatically programmed tool) language, with DMG/Mori Seiki extensions that are supported within GibbsCAM. DMG/Mori Seiki's initial focus during phase one is on its 3- to 5-axis machining centers and controls, with an ultimate goal of enabling the technology for all of its machines, including the most challenging multi-task machines. As new machines and machine functions are introduced, DMG/Mori Seiki and Gibbs will incorporate the new capabilities into their APT implementation.
This joint project is intended to address one of the main challenges that CAD/CAM and machine-tool users often face: the need for a new post processor and machine model for each of their machines. Currently, when a customer purchases a new CNC machine or a new CAM system for use with an existing CNC machine, they need to work with both the machine tool vendor and the provider of their CAM system to implement a customized post-processor and machine simulation model to fully program and simulate the capabilities of their machine. This process can sometimes be much longer than expected or desired, especially when the project requires the collaboration of two suppliers that do not always have the same level of detailed knowledge and understanding of each other's products.
In this new approach, the CAD/CAM vendor outputs DMG/Mori Seiki-specific APT data and DMG/Mori Seiki provides a postprocessor and simulation package for their CNC machine and thereby eliminating the need for each CAM provider to develop a custom post-processor and machine model. With this approach, users will be able to start cutting parts immediately on their Mori Seiki machines.
Gibbs and Associates' implementation of APT with DMG/Mori Seiki extensions now provides output that customers can accurately post-process, simulate, and execute without the need for a new post or modifications to an existing post processor for the entire range of DMG/Mori Seiki machines supported.
Furthermore, because these new APT extensions provide the ability to add functions beyond cutter location, CAD/CAM generated APT-CL files can incorporate additional data for set-up and simulation, such as coordinate systems, datum and offset positions, tool shapes, tool holder data and stock size. A GibbsCAM user programs a part in the same way as they are accustomed to doing so, but instead of running a GibbsCAM postprocessor, they generate a DMG/Mori Seiki-specific APT-CL file. Software tools provided by Mori Seiki in the Mori Seiki machine control then take this data and create the machine ready CNC code.
Want more information? Click below.