End Mills Give Medical Manufacturer a Leg Up on Automated Production
Switching tools enables Micron to double part production by milling orthopedic implants lights out.
What do you do when you have a part that takes up to 24 hours to machine and only one 8-hour day shift? You would need to find a way to automate the process and speed production. But what do you do when the tools you are using fail after just 3 or 4 hours, making automation extremely difficult? That's precisely the predicament Micron Integrated Technologies found themselves in when they wanted to take their knee implant machining operation lights out.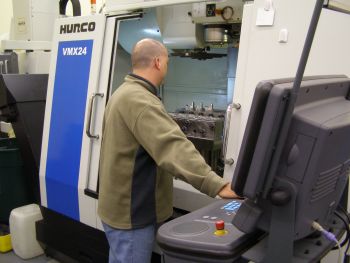 Micron manufactures several hundred surgical orthopedic implants and components every month.
Located in Fitchburg, Massachusetts, Micron Integrated Technologies is a wholly owned subsidiary of Arrhythmia Research Technology, a provider of state-of-the-art hardware and software solutions for comprehensive cardiac care. Micron offers outsourcing solutions including engineering services, precision metal and plastic component manufacturing, finished goods assembly, and complete supply chain management. With approximately 100 employees, Micron has over 94,000 square feet of environmentally controlled manufacturing and warehouse areas with class 10,000 clean room capabilities. Micron prides itself on providing low cost turnkey manufacturing services to the Medical, Aerospace, Petrochemical and Defense industries, but about 80% of all the production at the Fitchburg facility is for the medical industry.
Micron's precision metal manufacturing division is capable of producing tight tolerance components from forgings, castings, and bar stock. They machine materials such as stainless steels, nickel based alloys, titanium, brass, cobalt chrome, and other specialty metals. Using state of the art technologies, Micron offers the precision needed to handle the most challenging machining applications, including those required by the medical industry. Examples of medical products they manufacture include components for blood analyzer equipment, heart pump parts, orthopedic devices/ implants, custom knee braces, fetal heartbeat monitors and more.
Bringing an Operation to its Knees
Micron currently manufactures several hundred surgical orthopedic implants and components every month. The vast majority of those are 'rapid fulfillment' pieces that are needed for immediate surgical use. This means that from the time the order comes in, the organization has a very short time window to manufacture, inspect, and deliver a product. Several companies have been able to satisfy this need for medical OEMs, but Micron has been able to master it, now regularly producing implantable products in less than 24 hours.
In the manufacturing process, Micron uses approximately ten different end mills, including ballnose and torus (radius corner) in diameter ranges from 1/16" to 1/2". Running on 3 and 5 axis vertical machining centers, each part takes anywhere from 6 to 24 hours to machine. Micron was trying to run these jobs "lights out", but the tools they were using kept prematurely wearing down and breaking.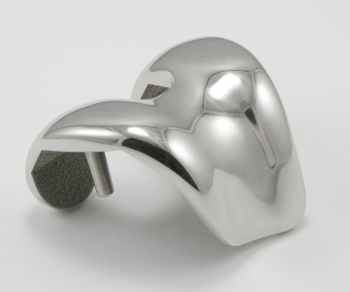 Femoral component of a knee implant manufactured at Micron.
"We were using four end mills to create femoral knee implants on our 3-axis vertical machining centers. Because each part took so long to machine, we were trying to automate operations," stated Dan Doiron, Lead Programmer and Machinist at Micron, "but tools were regularly breaking and were pretty beat up by the end of the cycle. We were lucky to get two parts completed before the tool would fail. With only a day shift on staff, it was impossible to run things 24/7 with the tools we were using."
Because of the demanding stock removal requirements, most end mills Micron was using wouldn't last through more than two or three parts. Doiron knew he had to address the problem and research possible solutions. In the past he had used Emuge tools for hard milling and was impressed with their performance. He thought that given the demanding manufacturing process and the fact that they were machining challenging cobalt chrome, Emuge might be a good fit for this application.
Micron talked to an Emuge applications engineer, explaining the problem they were having with tool life. The engineer then traveled to Micron's manufacturing facility in order to execute a series of test cuts, after which it was determined the best solution was to use an Emuge 1/2" torus tool to rough out the parts.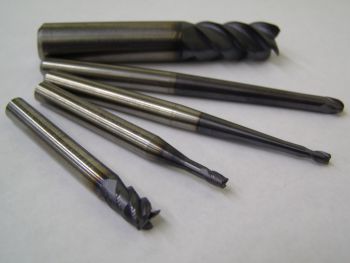 Emuge Solid Carbide End Mills feature sub-micro grain carbide construction and advanced cutting geometries.
Emuge solid carbide end mills feature select sub-micro grain carbide construction and advanced cutting geometries. Tools are available for application-specific machining for demanding situations such as with Micron. Tool designs vary depending on the material being machined, such as aluminum, titanium, graphite, stainless steels and specialty materials. Specially engineered coatings provide maximum cutting performance and tool life. The cutting tools consistently produce exceptional material removal rates and surface finish quality and are offered in a variety of styles and sizes.
Weekend Cycles, Savings and Efficiency
Micron realized immediate results after using Emuge end mills in their machining centers. "Our tool life and part production has more than doubled," said Mr. Peter Rezuke, Custom Machining Manager at Micron. "The Emuge tools can last through more than six parts and some cycles can run up to ten hours without failing. We're now running successful weekend lights out operations. On Friday, several machines are loaded and set to run. When Monday morning arrives, the parts are all ready for inspection and shipping. We are now machining over 200 implants per month, whereas before we could only manufacture 100 parts per month."
Besides doubling their tool life, the end mills substantially minimize chatter and provide a much better finish in heavy cutting. Feed rates have been doubled, and in some cases tripled. Because of the dramatic increase in tool life and productivity since switching to Emuge tools, Micron has saved considerably on their tooling costs.
The Emuge tools are performing much more efficiently than the previous tools. They are more resistant to wear and have eliminated the breakage problems that thwarted Micron's automation efforts. For example, with the best performing 3/16" ballnose end mill they were previously using, the chipload was .0005" and spindle speed was 5,000 rpm running at 10 ipm. The Emuge 3/16" ballnose tool ran at 4,700 rpm and with a chipload of almost .002", the feed rate was 35 ipm. "Surface finish quality has improved considerably as well. We eliminated 10-15 minutes per part in our secondary polishing operations," commented Doiron.
"Making the decision to switch to Emuge cutting tools radically improved our machining operations," added Sal Emma, General Manager at Micron. Emuge tools provided longer tool life, increased speeds and feeds and gave us the advantage and benefits of lights out manufacturing."
Want more information? Click below.