Innovative Quick-Change Tooling System Enables Tube Benders to be Reconfigured in Minutes
Unison is launching an innovative quick-change tooling system that dramatically speeds tooling changes on its all-electric tube bending machines. The system covers all of the tooling components on the machine, and includes barcode identification to verify the changeover process. On a 50 mm single-stack machine, for example, a fully validated changeover involving six basic tool components to switch from manufacturing one good part to another can be accomplished in less than three minutes.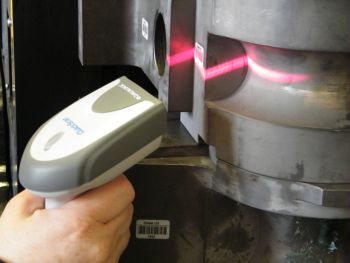 Available as an option for any 3-axis machine from Unison's extensive Breeze range of all-electric tube benders for diameters up to 76 mm, the system is likely to prove especially attractive to general metal fabricators seeking a fast and flexible means of handling small batch size production. It is also ideal for companies producing high value-added tubular parts, such as those used in the aerospace industry, enabling expensive early-stage errors to be eliminated from the manufacturing process.
All elements of Unison's new tooling system are self-aligning and designed specifically to minimize handling and set-up times. The machine's circular bend die and grip section mounts directly onto a threaded tool post with a large keyway, facilitating accurate placement, and is secured by a retainer ring that only needs to be hand-tightened. The fixed-position wiper die and holder similarly mounts on a splined shaft and simply requires tightening with a single Allen key.
The tool interface used on the outside of the tube bend helps speed changeover. The clamp die incorporates a T-shaped back which fits into a guidance slot on the machine's bending head, while the pressure die mounts directly on a hanging rail and requires no adjustment or position locking. Both dies can be removed by lifting them up and off the machine, and their replacements simply drop into place. This fast clamp and pressure die changeover method is possible on Unison machines because the dies only move horizontally.
The tube collet and mandrel rod now feature quick-change couplings, which only need a firm manual twisting action for removal and fitting. After tool changeover, the operator simply scans each tool on the machine using a handheld wireless barcode reader. The data is retrieved by the machine's control PC and checked against that held in the tooling library. This validation process is automatic, takes just seconds, and eliminates the risk of inadvertent human errors such as using the wrong tool to fabricate a part.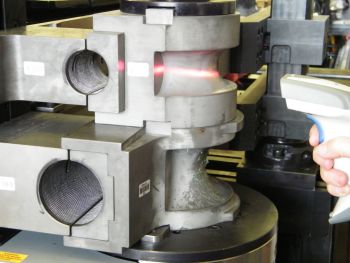 The advantage of faster tool changeover is maximized by the completely automatic setup capability of Unison's all-electric bending machines. On most tube bending machines, after performing a tool changeover operators typically commence producing the new part by running a trial piece, reviewing the result, adjusting machine parameters and re-running the trial. This process can take considerable time, outweighing the advantages of fast changeover tooling, and create scrap. On Unison tube benders, this process only needs to be performed at the very start of manufacturing; as soon as a good part has been produced, all machine control data for that part is stored and can be recalled at any time. Following a tool change, elements of this data are used to preset the machine to the correct starting state for the new part, immediately after the toolset has been validated. The all-electric architecture of Unison tube benders, which facilitates tight control of all servomotor based motion axes, ensures that each part will be bent accurately and consistently, regardless of whether the machine is cold or has been running all day.
"Automated tooling verification can result in substantial cost savings for fabricators serving specialist markets such as the aerospace industry," says Jim Saynor of Unison. "Bending is normally one of the first stages of tube fabrication, which means that identifying any error at this point prevents a faulty part being propagated through the production process, where each stage adds cost. A section of titanium tubing costing say, $100, can easily be worth over $1000 after bending, end-forming, laser cutting and powder coat processing stages. A typical tooling error would be to use a wrong die, which might only differ from the correct one by a few millimeters and be difficult to spot visually. By eliminating such errors, our verification system helps ensure that only known-good parts are presented to the next stage in production."
Want more information, click below.
To watch a video, click below.