New Turning/Milling Center Uses 2 Independent 5-Axis Subsystems to Completely Machine Complex Parts
INDEX Corporation is introducing a new concept machine tool featuring two independent 5-axis subsystems, each with one motorized milling spindle and one assigned work spindle, able to completely machine complex parts, short bars up to 102 mm and chucking up to 315 mm diameter, simultaneously.
The new INDEX R300 turning/milling center is the most recent addition to the RatioLine series and introduces a highly productive version for machining short bars up to 102 mm and chuck parts up to 315 mm in diameter. The R200 covers the range for bar diameters up to 65 mm.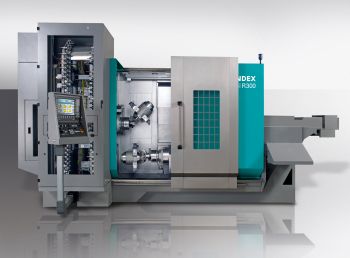 The new INDEX R300 is geared toward applications where larger chuck parts require a large amount of milling and drilling work, such as machine and farm machinery construction, in tool and mold making or in the aerospace industry.
From very simple to highly complex components, the main benefit is that the complex machining operations are possible simultaneously on the front and rear side – and, at the same time, are highly productive with two motorized milling spindles. The use of HSK tools instead of live tool holders on turrets reduces tool costs.
Ideal for difficult milling operations, the R300 is also capable of hobbing or deep-hole drilling with single-lip tools and high-pressure coolant to 80 bar to the tool edge through the motorized milling spindle. Grinding operations with a grinding point or an external grinding wheel up to 150 mm are additional machining options.
With the addition of tool storage strips, the R300 is well-equipped for highly productive and flexible 5-axis machining, both on the main spindle with tool carrier 1 as well as on the counter spindle with tool carrier 2.
With both linear tool carriers attached to both sides of each milling spindle, the user has quick access to six stationary tools per spindle with high precision. This means that the developers have succeeded in combining the functionality of a turret with a milling spindle. This new development means that tool changes are no longer necessary, thus reducing the secondary processing time during turning. It also makes the production of highly precise fits easier.
Minimal Setup Times and Short Secondary Processing Times
Users can carry out full rear end machining as well as parallel machining with identical sequences. Both heavy-duty roughing operations and fine-turning operations can be completed simultaneously on the main spindle and counter spindle. A large number of tools (up to 140 tools in the double-chain magazine) ensure short setup times even for small batches. Tool change times (chip-to-chip) are in the 6 sec range.
Added to that are 12 stationary tools on the tool strips of both milling spindles, totaling 152 tools available for a nearly unlimited range of operations and machining flexibility. Both milling spindles can perform tool changes completely independently of one another. The use of HSK tool holders reduces the tool costs as live tool holders are no longer necessary.
The option of operating the machine with a short bar loader with few personnel is only one of several automated handling solutions. For handling heavy chuck parts, an integrated workpiece handling unit is available.
Compact Construction and Travels for Greater Stiffness
Based on its very short lever arms and travels, the resulting system is very stiff and less susceptible to vibrations, which has a positive effect on the precision of the finished parts and on the tool life. Another plus are the high accelerations and rapid traverses supported by powerful drives and weight-optimized assemblies.
The two quill-guided motorized milling spindles are located in the center of the machine bed. Due to the arrangement of the axes, conventional cross-slides with tool carriers are no longer necessary. When combined with the play-free and wear-free hydrostatic circular guide, an overall system with very high stiffness is produced.
The generous B-axis swivel range of 270 degrees and the rapid traverse rate of 45 m/min provide machining flexibility and high-speed operation. The turning spindles with the same synchronous technology design have maximum power rating of 47 kW, a maximum speed of 3500 rpm, and a peak torque of 690 Nm.
Controller and Software Packages with User-Friendly Functions
The INDEX control C200-4D SL is based on the Siemens Sinumerik S840D solution line and was enhanced by INDEX with user-friendly features. Specially developed cycles simplify even the most complex machining operations, supporting multi-axis milling and turning operations and providing maximum functional reliability.
The INDEX VirtualLine software packages make the new turning/milling center efficient to operate right from the very first workpiece. VirtualLine guides the NC programmer and operator to the right solution for the machining task – both on the PC during the preparation stage and directly at the machine in the factory. With the 3D simulation of the INDEX Virtual Machine, machining programs can be created, verified, and optimized on the PC. The optional CNC Programming Studio provides advanced support for programming and operating the INDEX R300.
Inherent Energy Efficiency Optimizes Energy Consumption
For years all INDEX machines have obeyed the demand for reduced consumption. The INDEX R300 accomplishes this through: Weight-optimized components for reducing energy consumption and for increasing dynamic response; energy recovery by means of regenerative drives; energy shutdown of units that consume large amounts of energy after a user-defined time (standby mode); minimized friction based on optimally paired materials and low-friction bearings (hydrostatic circular guide); intelligent cooling principles, for targeted cooling of the machine, economical use of waste heat.
Want more information? Click below.