New Wire EDM's Cylindrical Drive Technology Features a Revolutionary 360 Degree Magnetic Flux, No-Contact Design
MC Machinery Systems, Inc., a subsidiary of Mitsubishi Corp., recently unveiled its completely revamped wire EDM line, featuring the revolutionary Cylindrical Drive Technology, offering a simple, but intelligent design concept.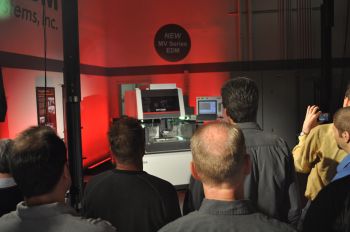 Until now, customers have had to choose between speed and precision when selecting an EDM machine. With the new MV Series, both can be accomplished on a single machine. Beyond the new cylindrical drive, the MV Series delivers design and engineering improvements to meet or beat any EDM specification or challenge.
The new Mitsubishi wire EDM MV Series features all-encompassing, game-changing engineering improvements, many of which being industry firsts, and none is as poignant as the Cylindrical Drive Technology. The round magnetic shaft of the linear motor creates a 360-degree magnetic flux for a revolutionary, no-contact design.
"One of the negatives of a flat-plate system is that the plates are rather large and take special construction in the machine casting for mounting. With the shaft design, we've actually taken those permanent magnets, made them button shaped, and lined them up, end-to-end, inside of a stainless steel tube," says Mike Bystrek, wire EDM manager, MC Machinery Systems Inc. "So now a shaft replaces the ball screw, and when energy is applied, it pulls itself along from magnetic field to magnetic field."
The new design prevents any other issues traditionally associated with linear drive systems, including:
No friction
No wear
No lubrication necessary
No reversal error
No expansion due to heat
No noise
The system also works with commercially available Servo drivers, and is not affected by shop dust or metal grinding dust.
The T-casting on the MV Series, features both the X- and Y-axes mounted directly to a set of ways on the base casting. This means the table moves right and left on one set of ways, while the column moves in and out on the Y-axis and a separate set of ways. This type of direct axis mounting removes any squareness and repeatability issues that come with stacked table design, and provides better rigidity and smoother movement for more reliable and precise cutting.
The MV 1200 machines offer a hardened stainless steel table and larger travel size without a significant impact on machine footprint. This translates to larger submerged cutting capacity.
Want more information? Click below.