Webinar Will Demystify 5-Axis Post-Processors
The Mazak Discover Technology Webinar Series interactively connects manufacturers with industry experts on the latest machine tool trends from the comfort and convenience of a desktop. Mazak's upcoming webinar, taking place on May 23 at 2 p.m. Eastern time, will resolve the mysteries surrounding 5-axis post-processors.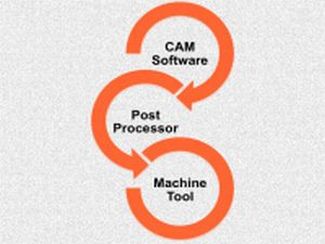 Post-processors are important interface tools between a computer-aided manufacturing (CAM) system and a CNC machine tool. In fact, today's post-processors are optimization tools that output the most efficient and productive machine tool code possible. However, without utilizing the right post-processor in a particular metalcutting operation, even the most sophisticated CAM software and advanced machine tool will fail to function properly.
The upcoming webinar is ideal for any manufacturer interested in how post-processors have evolved and become key components in factory automation. Participants will learn how machine kinematics affect post-processing efforts as well as how to properly evaluate basic, 5-axis milling, and 5-axis milling and turning post-processor formats.
All Mazak Discover Technology Webinars are free and approximately 30 minutes long. All it takes to participate is a computer, an Internet connection and a web browser, and a manufacturer is ready to gain powerful knowledge on how to stay competitive and profitable in today's challenging global marketplace.
For more information or to register, click below.
Copyright © 2020 by Nelson Publishing, Inc. All rights reserved. Reproduction Prohibited.
View our terms of use and
privacy policy
::m::