Georgia Manufacturer's Clean Air System Slashes Energy Costs and Requires Almost Zero Footprint or Ductwork
Turnkey solution filters air in a way that results in up to 80% less energy used in equipment.
F & P Georgia manufactures sub-frame & suspension components for Honda and others. The plant has extensive welding, stamping, and painting operations, which generate smoke and fumes that need to be removed from the work environment.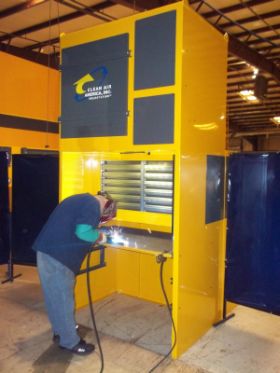 Traditionally, facilities that produce smoke or dust often collect and exhaust the dirty air to the outside with massive roof-mounted blowers connected through a maze of ductwork from welding areas. Venting this air to the outside means bringing in "make-up" air from heated and air-conditioned systems, which results in higher energy bills. F & P utilizes a new approach - a turnkey solution from Clean Air America that filters air at the source of generation, focusing on a modular level instead of plant wide. Point-of-source systems return air to within the building, thereby reducing expenses associated with "make-up" air, helping to slash gas and electric costs. This type of modular system also requires almost zero footprint and no extensive ductwork.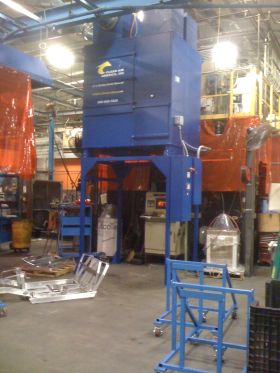 Smoke, grinding dust, and other production pollutants are collected and cleaned efficiently through modular air filtration systems that often comprise a completely self-contained work center for welding and cutting. Using down-flow filtering technology accounts, in part, for some of the efficiency of these modular systems. Incoming dirty air flows downward through filters positioned vertically—as opposed to an angle—to readily shed dust such as found within welding smoke. The filters trap most of the small particles while larger ones fall into a dust-settling hopper. A jet-pressure wave cleans the system's row of filters, further propelling trapped dust to move downward into the hopper.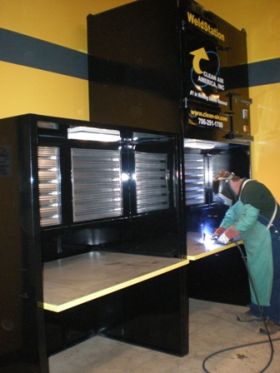 F&P uses the Clean Air America DFC 48, DFC 24, and DFC 18 Smart Collectors, which are high performance collectors that require a ducted system and capture dust and smoke from welding, grinding, stamping, and other applications. The Clean Air Smart Collector™ is a completely NEW generation of cartridge collectors suitable for a wide variety of applications and superior to all other designs out on the market. It features a 50% better filter lifetime vs. other vertical style collectors and 75% better filter lifetime vs. horizontal designs. The CA Smart Collector™ can be combined with the Clean Air Smart Panel that, depending on applications and needs, can include the Clean Air LEAF™ (Low Energy Air Filtration) system that will let you experience upwards of 80% less energy used in your equipment.
F&P also uses a Clean Air America Weldstation 5 to capture weld smoke in their plasma cutting operations. The Weldstation 5 is a one piece, self contained welding work center. Measuring just 60" wide, 39" deep and 120" high. WeldStation 5 is designed to fit into almost any space.
Want more information? Click below.