DMG Mori Teams Up with Siemens to Offer Complete CAD/CAM Process for Ultrasonic and Conventional Machining of Aerospace Parts
Major machine tool builder, DMG Mori, has found a way to offer its customers better tool life, higher degree of accuracy and overall production efficiencies through a partnership with Siemens. The two companies recently combined to provide a total package to manufacturers -- CAD-CAM hardware, software and engineering services.
DMG MORI manufactures a wide variety of conventional chip-cutting and ultrasonic machining centers for OEMs and production job shops serving the aerospace industry. Inherent in this industry are several factors that require great care and planning in the machining process.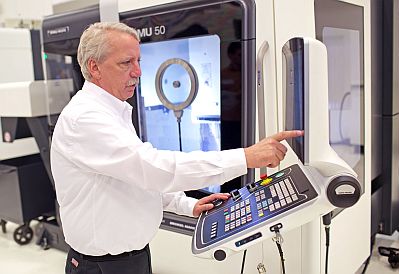 A DMG employee showcasing the DMU 50 with Siemens' 840D sl CNC. The features of the 840D allow a streamlined simulation of the actual cutting path.
Typical components produced include those made from very lightweight but hard materials such as titanium and related alloys, as well as aluminum workpieces where substantial volumes of material removal occurs, such as fan blades and bladed disks known as blisks. Due to very long cycle times and often high raw material costs, the machining of such components has long presented a challenge to part production departments and job shops alike.
On two recent applications, DMG MORI turned to long-time business partner Siemens for assistance.
By offering a total package of CAD-CAM-CNC hardware, software and engineering services, Siemens was able to help this machine builder substantially improve every aspect of part production, including reduction of design-to-part protocols, machining time, tool life, surface finish, dimensional accuracies and overall production efficiencies.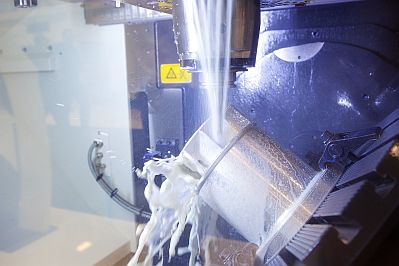 The DMU 50 machining an impellar fan designed for aerospace. The finished part is run in 7-1/2 hours.
In the first instance, a reverse thrust component for a jet engine was to be made from Ti Gal-4-V, a material often used in aerospace, owing to its elastic stiffness. Starting from the CAD file, the Siemens PLM (Product Lifecycle Management) team ran the program through its NX CAM with a VoluMill add-on feature that calculates for maximum material removal rates.
The User Defined Events (UDEs) feature inside the NX program allows simple check boxes for triggering post-processor references for coolant pressure, amplitude, ultrasonic generator settings and more. This avoids manual programming and, as a result, reduced the program transition time from as long as two days to approximately 30 minutes.
VIDEO: Siemens DMG
Once the program was ready for the control, the features of the Sinumerik 840D sl CNC allowed a more streamlined simulation of the actual cutting path. The 3D quick set compressor feature provides a parametric itemized data file for all path motions, thereby eliminating collision and ensuring the optimum tool path, in conjunction with the NC kernel and PLC on the machine tool.
As Siemens technical applications center manager Randy Pearson observes, "This feature is a huge time saver for our customer, as the test ball and probe in the spindle mechanism can be run at any point in the cycle, testing the actual machine kinematics at any time. The procedure can also be automated to run on the table at prescribed time intervals."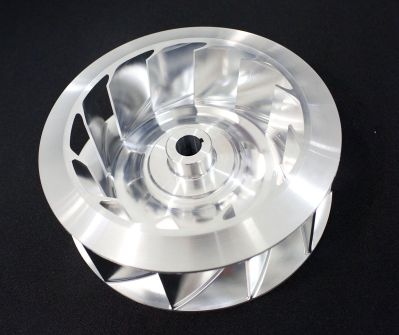 An impellar fan designed for aerospace, machined on the DMU 50 in partnership with Siemens' CAD-CAM-CNC hardware, software and engineering services.
The high-speed machining feature is highlighted by Cycle 800, which is a static plane transformation that allows a 5-axis machine to define a rotated working plane in space. It is commonly known in the industry as 3+2 programming. The cycle converts the actual workpiece zero and tool offsets to refer to the rotated surface. Of note here, the cycle accommodates particular machine kinematics and positions the physical axes normal to the working plane. This is referenced as TRAORI or transformation orientation.
Meanwhile, the Sinumerik CNC Operate user interface on the machine allows the operator to perform a variety of integrated tool management and information management functions, all transportable on a USB or network connection.
In the simulation, the loading and fixturing of the workpiece is performed virtually in NX CAM, which also calculates a consistent chip load, critical in these large material removal applications. The simulation further verifies the tool length at every cutting section and the program is finalized for the machine to begin. It is literally like working with a "Digital Twin" of the machine.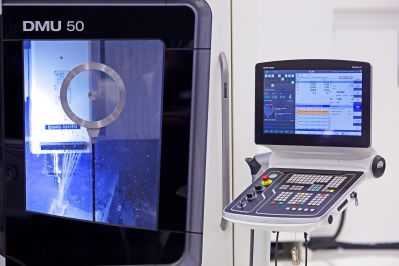 Close up of the DMU 50 with Siemens' 840D sl CNC.
During production, this process yielded a 2.25x improvement in tool life on this very hard material, according to DMG National Product Manager, Luke Ivaska. "With the combination of NX CAM, plus the Sinumerik 840D sl on the machine and all it could do, we had some initial challenges, as most software programs are purpose-built CAM packages that allow quick and easy use by anyone. They have significant limitations; however, as the software drives the tool path, and the operator has very little control. With NX CAM and Sinumerik, we have a lot more input on the creation of the tool path. I have yet to find a problem I could not solve with NX."
The finished part is run in 4-½ hours with a surface finish improvement from 62.5 Ra to 35 Ra, due to the ultrasonic actor.
In the second example, a conventional chip-cutting 5-axis machining center, the entry-level DMU 50 is utilized to cut a 7" diameter x 2" high block of 6061 aluminum into an impeller fan for the aerospace industry, with more than 90% material removal achieved.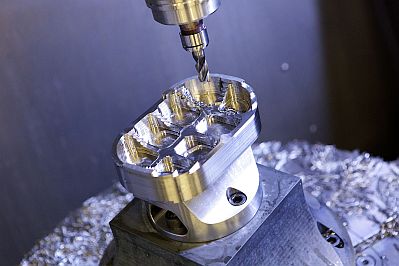 A reverse thrust component for jet engines being machined on a DMU 65 with Siemens 840D sl CNC. Cycle 800 allows the DMU 65 to define a rotated working plane in space, commonly known as "3+2 programming."
The same NX CAM software began this process chain, with the initial benefit of considerable time savings in the 5-axis setup and comprehensive G-code simulation and verification in a single system. Because of the bladed structure of this impeller fan component, only a 0.5 degree clearance between the part and the tool holder was allowable during the machining.
Simulation with NX CAM is key to get in that tight of a spot without collision of tool and part. DMG MORI engineering looked to another long-time tooling partner Haimer and that supplier's slim line holder was deemed a viable solution for this application. Meanwhile, the interpolated tool axis and section views were run on NX CAM to verify the operation of the tool in this very tight workspace.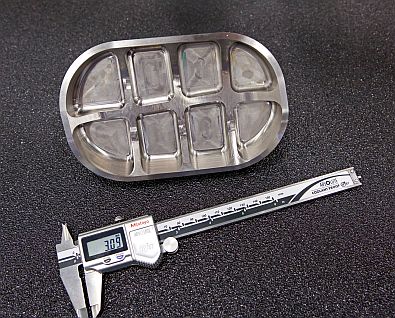 A reverse thrust component for a jet engine machined from Ti Gal-4-V on the DMU 65 with Siemens 840D sl CNC.
In the Sinumerik 840D sl, the same 3D quick set compressor feature ensured the proper tool path, while the high-speed machining setup and Cycle 800 were again utilized for this project.
Sinumerik Operate, the CNC's graphical user interface, afford the end user's operator and manufacturing engineering personnel full access to a variety of conditions in production, including all roughing and finishing data in plain text, plus all 5-axis transformation orientation data logged for restart after any interruption and manual restart.
The variable streamline operation of the machine tool combines with an interpolated vector to produce a smoother finish in the machining of the blade surfaces in a single tool path. The machine seamlessly transitions from square-to-round machining and then the extreme angle paths needed to accurately machine the blade internals. The single blade fin portion of the program was automatically captured, so a step-and-repeat program can be built-up. The simulation of each blade fin cutting path was done on both the NX CAM and the CNC programs.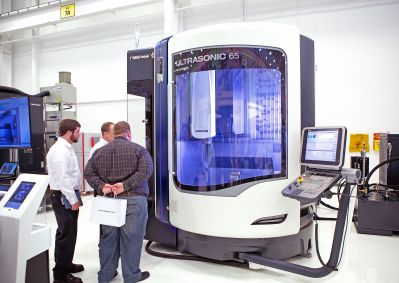 A full look at the DMG DMU 65 with Siemens 840D sl CNC.
This vectored program is transportable to any machine with comparable results, according to Randy Pearson and Siemens PLM director of business development, Matthias Leinberger, who comments, "Precisely because the machine kinematics are knowable, this program, once created, can be transferred onto multiple machines within the same facility or run by shops around the world, all tied together by the control, so there is total continuity between the operations, the data capture protocol and feedback received for production analysis."
Both these projects were performed using the new CELOS® onboard the DMG MORI machines.
CELOS facilitates the total interaction between operator and machine, in these applications, as it has numerous apps to enable instant call-up of actual conditions, full data comparison through a link to CAD and CAM products, plus full interface to the customer company's ERP system for logging and analysis, with in-process remote adjustment. In the case of these aerospace customers, interactive communication to a global production network is also provided.
For more information, contact John Meyer -- john.meyer@siemens.com
For specific product information and inquiries, call (800) 879-8079 ex. Marketing Communications or send an e-mail to: cnc.us@siemens.com