Hybrid Punch/Laser System Eliminates Multiple Setups for Sheet Metal Manufacturing
Murata Machinery USA, Inc. has launched its latest cutting-edge Muratec Combination Punch Press and Fiber Laser (MF3048HL). This integrated machine combines the benefits of punch operations with laser cutting technology, eliminating the need for separate setups or material transfers between machines.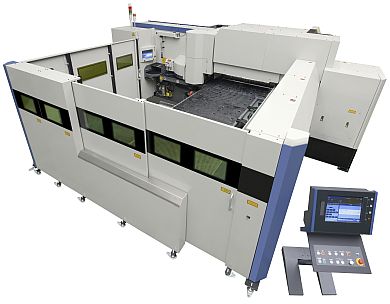 Muratec's punch/laser combines the power of a fiber laser to offer precise cutting, punching, tapping and forming operations on a diverse range of materials. While the large turret capacity cuts down on tool changeouts, the fiber laser performs contour cutting and addresses the low-volume punch tool requirements. Added standard features like controlled punch stroke, quick change tools, scribing, and tapping increase production transitions from one job to another for more flexibility and shorter production times.

VIDEO: MF30510HL & FG3015T
With a press capacity of 33 tons and a rated output of 4.0kW, this hybrid machine delivers precise and efficient operations with power and speed. It handles a maximum sheet thickness of 1/4 inch, making it suitable for a wide range of applications. The processing sheet size options of 4ft x 8ft or 5ft x 10ft provide flexibility to accommodate various sheet sizes.
With a high hit rate of 510 hpm and a table speed of 4921 inches per minute, processing is fast, reliable, and efficient. Its processing precision of ± 0.001 inches assures exceptional accuracy and quality for punch/laser jobs with complex geometries, such as high-precision sheet metal and prototyping, especially in the automotive, aerospace, and electronics sectors.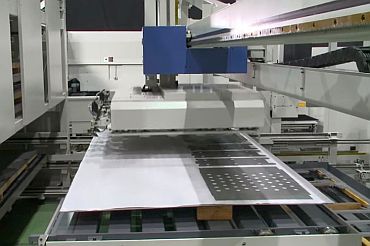 "By combining laser cutting and punching capabilities in a single machine, this multifunction machine empowers manufacturers with unparalleled flexibility," said Jeff Kalmbach, Murata Machinery USA, General Manager, Machine Tools Division. "By enabling users to combine manufacturing operation into a single machine and seamlessly integrate automation systems, companies will quickly realize the benefits in productivity and efficiencies through their operations, ultimately adding more to their bottom line."
Want more information? Click below.