SpaceX and Vast Preparing Launch of World's First Commercial Space Station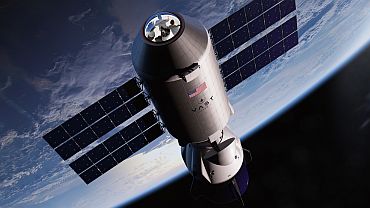 Illustration -- Haven-1 with SpaceX Dragon docked and a visiting crew of four.
SpaceX will launch what is expected to be the world's first commercial space station, known as Vast Haven-1, quickly followed by two human spaceflight missions to said space station.
Scheduled to launch on a Falcon 9 rocket to low-Earth orbit no earlier than August 2025, Haven-1 will be a fully-functional independent space station and eventually be connected as a module to a larger Vast space station currently in development.
Upon launch of Haven-1, Falcon 9 will launch Vast's first human spaceflight mission to the commercial space station, Vast-1. Dragon and its four-person crew will dock with Haven-1 for up to 30 days while orbiting Earth. Vast also secured an option for an additional human spaceflight mission to the station aboard a Dragon spacecraft.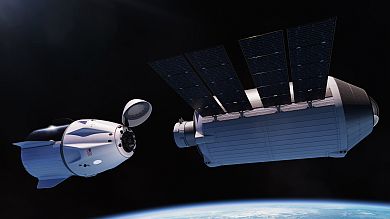 Illustration -- SpaceX Dragon approaching Haven-1 to dock.
The Vast-1 crew selection process is underway and the crew will be announced at a future date. Once finalized, SpaceX will provide crew training on Falcon 9 and the Dragon spacecraft, emergency preparedness, spacesuit and spacecraft ingress and egress exercises, as well as partial and full mission simulations including docking and undocking for return to Earth.
Vast's long-term goal is to develop a 100-meter-long multi-module spinning artificial gravity space station launched by SpaceX's Starship transportation system. In support of this, Vast will explore conducting the world's first spinning artificial gravity experiment on a commercial space station with Haven-1.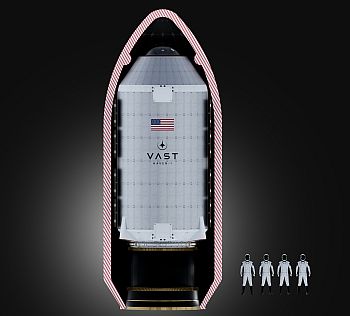 Illustration -- Haven-1 inside the Falcon 9 fairing before launch.
This new partnership between Vast and SpaceX will continue to create and accelerate greater accessibility to space and more opportunities for exploration on the road to making humanity multiplanetary.
Want more information? Click below.
Copyright © 2023 by Nelson Publishing, Inc. All rights reserved. Reproduction Prohibited.
View our terms of use and
privacy policy
::m::