The Largest CAD Conversion in History?
To appease growing demands from design engineers and advanced manufacturers, Amazon decided to supply downloadable CAD files for all the parts they supply. The daunting task of converting millions of 2D drawings and legacy CAD files into modern 3D CAD systems is leading to new opportunities and improved processes.
Recently, Amazon's industrial products division decided to undertake what some are calling the largest CAD conversion in history.
Known for being customer service-centric, the company responded to the growing demand from its industrial customers to supply downloadable CAD files for the millions of parts it supplies. This would allow engineers to then input the CAD data directly into the designs so that they could undergo digital simulations.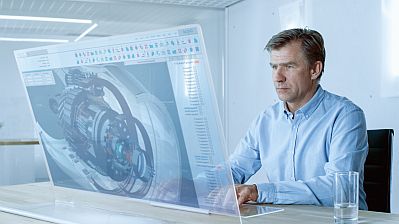 Amazon's Industrial Products Division pulled off what some are calling the largest CAD conversion in history.
Converting 2D paper or scanned files into intelligent, electronic 3D Computer Aided Design (CAD) or Computer Aided Manufacturing (CAM) files, often called digital twins, is taking on an added significance as companies increasingly look to go digital. While CAD conversions are just a small piece of the overall digital transformation puzzle, the benefits make the process a point of emphasis: improved operational efficiencies, faster time to market, as well as improving new product development and throughput.
Yet, as Amazon recently encountered, the enormity of the process can often be overwhelming. Many organizations have thousands, even millions of parts, assemblies and drawings that must be digitized into CAD compatible files, not just scanned for preservation purposes. Even companies who have been utilizing 3D CAD software for decades often have legacy files dating as far back as DOS that can no longer be accessed and must be converted into modern CAD software systems.
Amazon's Challenge
Like a lot of companies, Amazon scanned and digitized their original part blueprints and drawings. However, those 2D photos were often hard to read and not useful for most modern design and manufacturing processes.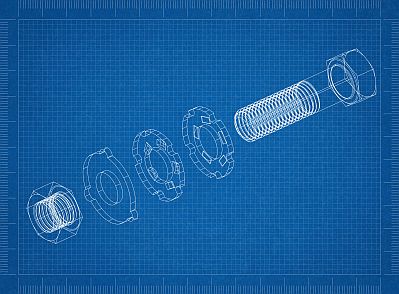 Like a lot of companies, Amazon had digital blueprints and drawings of their parts, but those 2D photos were often hard to read and not useful for most modern design and manufacturing processes.
"This was a huge job that we needed to be done quickly, and we struggled to find anyone capable of handling this type of volume on such a short timeline." says Jason Mikhailovich, senior manager at Amazon Supply, which services industrial and scientific companies.
Amazon would seek advice from a major aerospace company which suggested it look into one of the six CAD companies in the U.S. certified by the U.S. Department of Defense (DoD) for scanning and conversion work.
"We needed a company that could get ramped quickly," adds Mikhailovich, who ultimately selected CAD / CAM Services, a Dallas-based CAD engineering firm with 35 years of expertise in 3D scanning, modeling, and conversions.
It did not take long before Amazon was receiving more than 1,000 CAD conversion files per day, in nine different file formats -- which was required for the catalog.

VIDEO: CAD/CAM Services
"I know there are a lot of companies that are gearing up to do the same type of work, and my advice to them is to find the right partner and just take it one step at a time," adds Mikhailovich. "There is no doubt that it boosted our industrial sales, so I would say it was all worth it."
Driving Force
"We are definitely seeing a huge increase in the number of CAD conversion projects we are taking on," explains Scott Shuppert, President CAD / CAM Services. "Due to the sheer volume and complexities, most organizations are reluctant to expand their engineering departments for this type of work, so it usually gets outsourced."
Increased competition within the manufacturing sector has increased the pressure for companies to reduce costs, improve customer experience and increase profitability. Advanced manufacturing organizations are much more reliant on CAD files that enable manufacturing automation and increased productivity.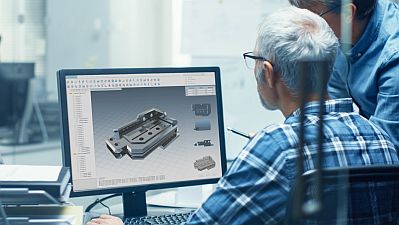 The problem was the sheer enormity of the project which required millions of CAD files to be delivered on a tight deadline.
Like Amazon, there are a number of companies that are already finding new ways to maximize their CAD conversion investment. For example, there are a growing number of websites that allow customers to upload their entire CAD file catalogs for the convenience of their customers. One such provider, TraceParts, currently offers nearly 110 million parts from over 1,400 supplier-certified product catalogs. This allows manufacturers to get in front of more potential customers without any of the leg work.
While the need to stay competitive and grow is the driving force for many of the companies that have already jumped into the CAD conversions process, for others there are more urgent concerns.
Millions of drawings are now being stored on Mylar, a type of stretched polyester film invented in the 1950s. It was originally designed as a replacement for paper because of its longer shelf life.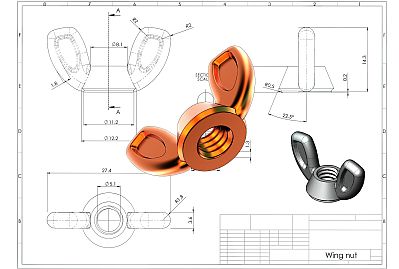 Amazon decided to supply downloadable CAD files for all the parts they supply.
"The problem is that because Mylar is often improperly stored, the material tends to degrade more rapidly, impacting its accuracy and usability," explains CAD / CAM Services' Shuppert. "Converting this information into accurate and useable digital formats has become increasingly important. In fact, we just finished a huge Mylar conversion project for the U.S. Air Force."
Data Chaos
Another significant advantage companies are finding includes the avoidance of "CAD chaos" or a poorly organized CAD ecosystem.
As an extreme example of how critical this can be, there was a well-publicized story of a major aerospace manufacturer that had to halt production of its newest aircraft after it had already reached the assembly room floor. The issue was traced back to different plants utilizing different versions of its design software. The end cost was monumental -- thousands of jobs lost, the company had reduced its profit forecasts by $6 billion, and multiple facilities were shut down.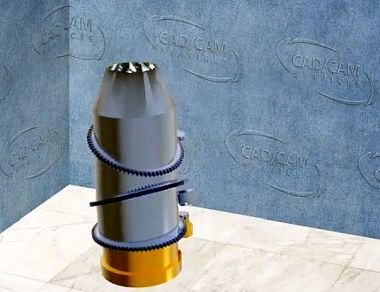 Over 1,000,000 3D CAD files were produced for Amazon.
"For us, this project dealt almost entirely with the Solidworks CAD software. However, we deal with a huge number of suppliers, and so as we move forward it's nice to know that our CAD provider also supports Catia, Siemens NX, Creo, and AutoCAD. This way we can keep our data clean and compatible," concludes Amazon's Mikhailovich.
Ultimately, the CAD conversion push is about revolutionizing the way products are designed, tested, manufactured, and perform over their lifecycle.
Want more information? Click below.