New Coolant Support System Enables Cleaner Cutting of Longer Tube and Pipe Parts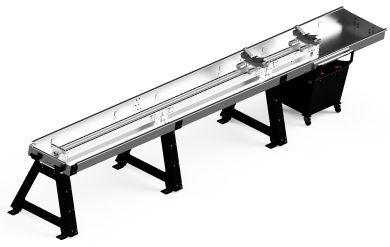 Bend-Tech's new Coolant Support System is designed to make the handling of longer tube and pipe materials more efficient. Additional support trolleys carry stock as it is loaded into the machine and hold up long parts to maintain a consistent, cleaner cut, no matter the length.
The Coolant Support System also allows operators to cut longer parts while maintaining safety standards. The system is designed to work with Bend-Tech's Dragon A400 and Dragon A250 CNC plasma tube and pipe cutting models.
Contain Fluids, Cut Longer Parts
The Coolant Support System is ideal for stainless steel and aluminum tube and pipe fabrication.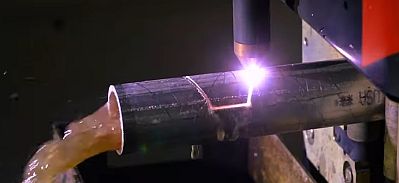 With the Coolant System, operators can cut longer parts with ease and handle materials almost instantly after cutting because of the increased heat exchange rate while using coolant. The system is designed with rigid sidewalls and splash guards that securely contain fluids and prevent spills to run production efficiently, keep a clean shop environment, and maintain safety standards.

VIDEO: Bend-Tech Dragon A400
The A400's full 400-pound weight capacity is supported with the Coolant Support System in round, square or rectangle stocks with the same sizing up to 6.375-inch measured at the hypotenuse. Other closed profile stocks can also be run with coolant using custom plugs. The A250 with the Coolant Support System supports round stock to 260 pounds. Just like the machines themselves, the system is modular in length to meet customer specifications.
Bend-Tech's A400 will be capable of cutting, marking, and engraving long aluminum trailer rails and stainless staircase handrails.
Easier Loading and Unloading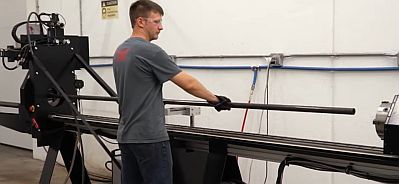 Both the new Coolant Support System and the existing Dry Support System are designed to make loading and unloading longer stock lengths easier and safer for structural steel fabricators and other producers. The system allows quick release for fast changes between materials sizes, maintains material centerline and uses non-marring, durable Teflon® supports.
Versatile by Design
"Bend-Tech's new support system enhances the most versatile CNC plasma cutters on the market, our Dragon A250 and A400," explained Mitchell Eigenberger, Bend-Tech General Manager. "We took customer feedback to heart when designing the new Coolant Support System so operators can work with longer materials and cut longer parts in a safe and efficient manner."
Bend-Tech is now accepting orders and the systems are expected to be available for delivery during the second quarter of this year.
Want more information? Click below.