Wet or Dry, AM Solutions' Finishing Systems are a Blast
AM Solutions' S1 Wet is a versatile wet-blasting solution for cleaning and finishing surfaces.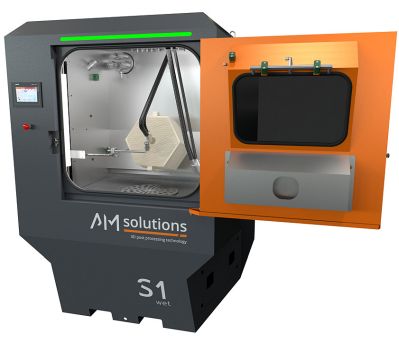 In the case of AM parts, wet blasting has been largely disregarded, yet it is a clean, reliable, and repeatable process. It consistently produces better surfaces than other processes and is ideal for parts created by direct metal laser melting (DMLS) or selective laser sintering (SLS).
Powder residue adhering to AM workpieces is removed with the S1 Wet, even in hard-to-reach internal channels and on complex shapes. In the finishing area, the system delivers smooth surfaces in a precise and repeatable process.
The S1 Wet can process metal or plastic parts individually or in batches, has a small footprint and an automatic abrasive concentration control. In addition, the process water is recycled and the system can be run in manual, semi-automatic and fully automatic modes.

VIDEO: AM Solutions' S1Wet is a versatile wet blast solution for cleaning and surface finishing.
Another enormous advantage is that wet blasting is not subject to ATEX regulations, as there are no dust explosion risks.
The S1 is a smart solution for cleaning and surface finishing, which set new standards for the post-processing of parts from powder bed fusion (PBF) AM technologies.
The smart plug-and-play solution impresses by being able to perform cleaning and surface finishing all in one self-contained unit (2-in-1 concept) with the same media, in a manual or automatic process, saving time and costs.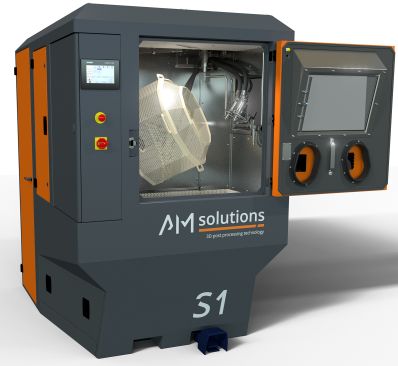 Furthermore, it is also suitable for the surface finishing or de-powdered metal components made from non-reactive metals, and it is equipped with a blast media conditioning system for optimal and consistent quality of the blasting media. Moreover, it features a newly developed air management system which means even fewer deposits in the interior.
AM Solutions will be showcasing these machines along with other options at TCT 360 in Birmingham, UK, June 7th and 8th.
Want more information? Click below.