Choice for New Machining Center Based on Extreme Loyalty
Founded in 1979 as a small machine shop, AMETS has grown constantly to achieve its current market position. The Spanish-based manufacturer has evolved into a large operation and now handles precision machining work on an international level. Recently, the company was in need of a new machining center. Their choice was a natural one -- and it was based on loyalty.
AMETS specializes in general machining of all types of parts for different industries such as steel, oil & gas, automotive and aluminum packaging. In many cases, the parts they produce demand complex geometries.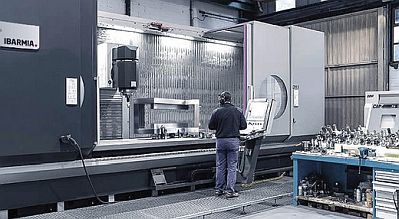 AMETS' new ZVH 58/L4000 MULTIPROCESS machining center with pure iron yoke machined and assembled for a high-tech project.
Given the nature of its business, AMETS machines a wide range of parts in small series. Therefore, the increasing demand in terms of complexity and variety of parts requested, led to the need to invest in a machining center capable of responding to such a wide demand with solvency and precision.
The story behind AMETS is a clear example of loyalty. Their relationship with IBARMIA goes back a long way, to 1998 to be exact, when they acquired their first IBARMIA machining center -- a ZV 45 EXTREME that has run in production up until very recently.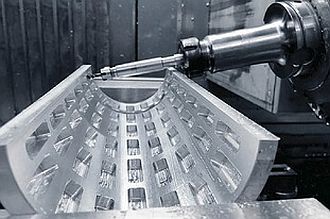 All keyways were machined in a single operation on this aluminum cylindrical structure intended for innovation in the manufacture of packaging.
So, when acquiring this new machining center with better and more extensive features, the excellent performance offered by its veteran ZV 45 machine tipped the scales in favor of IBARMIA.
Since the days of the ZV 45 EXTREME, IBARMIA's versatile range of travelling column machining centers has undergone a growing and successful technological development.
The most advanced solution of this family is the versatile ZVH MULTIPROCESS multitasking machining center for milling in up to 5 continuous axes with vertical and/or horizontal turning capabilities. The program allows to configure models structurally adaptable to all electrospindle sizes, ranging from 1600mm to 12,000mm of longitudinal travel, while offering a very extensive catalog of optional features, which allows levels of customization difficult to achieve by other manufacturers.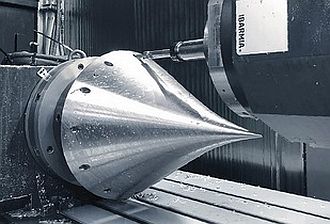 Fully machined conical part in stainless steel from the foundry.
On this basis, AMETS opted for a powerful ZVH 58/L4000 MULTIPROCESS, a machining center for operations in up to 5 continuous axes with vertical turning capability and 4m of longitudinal travel, equipped with an HSK 100 size and 84 kW electrospindle.
The model also incorporates a bolt-on rotary table as a 6th axis, capable of both vertical and horizontal use.
In short, AMETS chose a configuration which allows them to deal with all types of orders with maximum flexibility, especially in such a volatile and changing situation as the markets are currently experiencing.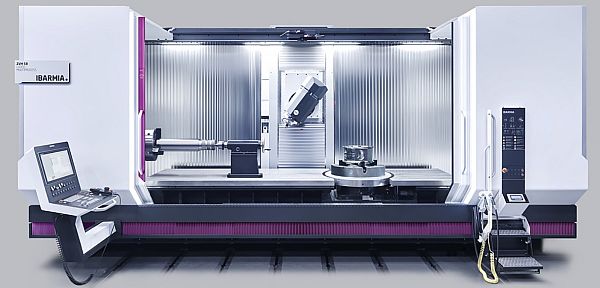 IBARMIA's ZVH 58/L4000 MULTIPROCESS Machining Center
AMETS' satisfaction with the results of this model and its relationship with IBARMIA has led to the recent incorporation of another IBARMIA machining center. In this case they chose a ZVH 45/L1600 EXTREME that will certainly improve the speed and performance of this manufacturer specializing in the manufacture and assembly of precision tooling for various sectors.
Want more information? Click below.