New Rust-Stopping Lubricant Prevents Damage to Metal Parts
Fluoramics Chain, Wire & Cable lubricant penetrates deep into the core of braided wire, wire rope and cables to stop rust and corrosion. It provides surface protection for metal parts that need protection before and after exposure to the elements, and prevents damage to metals by reducing wear and friction between contacting parts.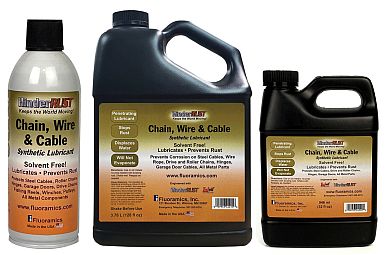 Chain Wire & Cable penetrates wire rope and the pins / bushings within chains. It can be used on pulleys, gears, forklifts, dock or garage door cables, conveyor belts, elevator cables, hoists, chain saws, forklifts, and link/roller assemblies.
Chain Wire & Cable is engineered using Hinder RUST® Technology. Chain, Wire, & Cable goes on as a mobile liquid that wets to surfaces and creeps into seams. It starts protecting and lubricating surfaces upon application, and keeps chains and cables supple.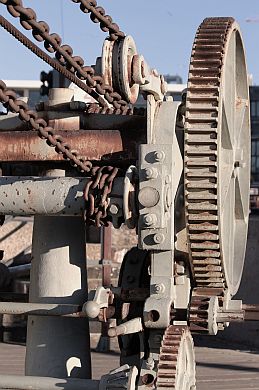 Solvent free, Chain, Wire & Cable is non-toxic, non-flammable, plus is manufactured with EU Regulatory Compliant PTFE.
"Besides displacing water, Chain, Wire & Cable lube has excellent clinging and wicking properties. That means it spreads and soaks deeply into hard-to-reach areas on wire ropes, chains and cables," said Gregg Reick, Fluoramics' President and Chief Chemical Engineer.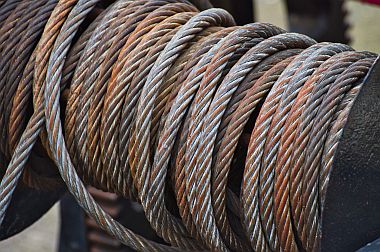 Typical applications include braided wire, cableways, chain saws, chains, conveyer belts, cranes, drive chains, elevator cables, garage door cables, gears, hoists, lifts, link and roller assemblies, marine applications, motorcycle control cables, pulleys, roller chains, sprockets, steel cables, wire rope, and winch cables.
Chain, Wire and Cable is available in quarts, gallons and aerosol spray cans.
Want more information? Click below.