Machine Tending Robot Can Handle Different-Sized Parts with One Program
RoboTrex is a pre-engineered CNC machine tending solution for all new or existing 5-axis CNCs, VMCs, HMCs, and lathes.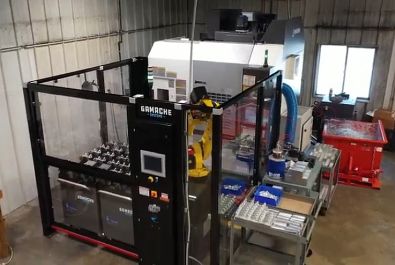 Key Features:
No need for expensive upgrades for clamping
Flexible and can even tend TWO CNC'ss
ZERO change-over
No need to be a robot programmer
RoboTrex was developed in Germany by LANG to make LANG vises. After perfecting the system,they went to market in Europe with great success.

VIDEO: RoboTrex Machine Tending -- CNC Operation
The Metalcraft Automation Group (MAG) was asked to team up with LANG in the USA. They used the original design and "Americanized" it by using US steel, US controls components, and US labor. The company still imports the high quality LANG vises, carts, docking stations, and grippers that make RoboTrex superior and easy to use.
Combined with Metalcraft's years of automation experience, the folks at RoboTrex USA believe they have a clear advantage over the competition when it comes to overall value proposition.
Additional RoboTrex Benefits:
RoboTrex can be integrated to any new or existing 5-axis CNCs, VMCs, HMCs and/or lathes.
Using LANG vises makes the system easy to use, operate and change-over.
NO NEED TO EVER CHANGE THE ROBOT PROGRAM FOR DIFFERENT SIZED PARTS, because the robot picks up the LANG vise, so it doesn't matter what's in the vise -- there is only ever ONE PROGRAM REQUIRED.

NO NEED FOR A ROBOT PROGRAMMER, because you can operate and HOME the robot easily from the color touch screen.
RoboTrex is professionally installed and the company can usually get your system up and running in 3 work days -- including training.
The RoboTrex modular design makes the system very flexible and allows for many configurations to best suit your needs.
There is no need to add expensive utility upgrades to your machines for clamping because RoboTrex can either mechanically lock the vises into place or pneumatically lock the vises through the robot gripper.
Loading the carts takes literally 30 minutes or less and you can get up to 168 parts in queue.
Want more information? Click below.
Copyright © 2023 by Nelson Publishing, Inc. All rights reserved. Reproduction Prohibited.
View our terms of use and
privacy policy
::m::