From High-Speed to High-Feed
A specialist in high-performance motorsport, Toyota Gazoo Racing Europe recently raced into a new venture -- open-market vendor of 5-axis CNC machining. To ensure success in its added role, the company turned to a DMG Mori machining center equipped with a flexible Siemens controller.
Taking the quality, precision and efficiency from racing...
Toyota Gazoo Racing Europe is German-based production "rescue crew" for the motorsport team of the Japanese car manufacturer. The company's core competencies are the developing, testing and manufacturing of highly complex components for engines, chassis and cooling systems through to complete chassis units -- including all molds -- for racing and rally vehicles. All of this is done with maximum flexibility, precision and quality, and in most cases in extremely small batch sizes.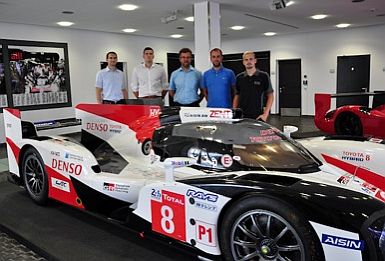 Toyota Gazoo Racing Europe is active in racing and on the free market of contract manufacturers.
For high-performance dry machining of complex composite components, the company recently added a new DMG MORI Gantry machine to its machine fleet. The Siemens SINUMERIK 840D sl open CNC system on the machine ensures highly dynamic, precise and flexible processes.
... into the free market of contract manufacturers
The cars of the Toyota Gazoo Racing Team compete in races such as the 24 Hours of Le Mans. At its site in Cologne, the company produces core components for three of the very successful cars in the FIA World Rally Championship (WRC) and is involved in developing high-performance Toyota road-going cars.
TGR-E also provides a wide-range of services -- from engineering through to manufacturing -- to external companies.
"To do so at competitive conditions, we need to utilize our highly specialized machinery as best we can -- especially in the field of CNC machining -- and ideally generate unmanned processes from quantities of two and higher wherever we can," says Marcel Voigt, Senior Manager Production and Supply Chain Management.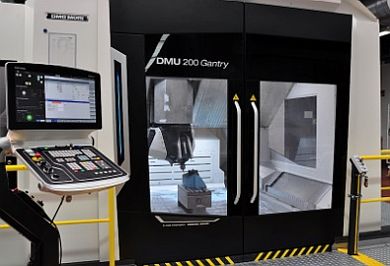 On this new 5-axis machine tool DMU 200 Gantry from DMG MORI, Toyota Gazoo Racing Europe machines highly complex composite components for motor sports and other applications.
This was the background for the investment in a new DMG MORI DMU 200 Gantry machining center fitted with a SINUMERIK 840D sl from Siemens.
One goal is to keep the large machines free for very large components such as complete chassis and to machine medium-sized parts on a somewhat more compact machine with lower hourly rates using dry machining only. With travel distances of 2,000 mm x 2,000 mm x 1,200 mm (XYZ), the DMU 200 Gantry machine is ideal for 5-axis machining of structural parts for racing vehicles and other composite components. These are then machined at maximum cost efficiency levels using both single and multiple clamping.
Gentle yet efficient machining of composites
One challenge is presented by difficult-to-machine composites consisting of several combined layers made, for example, of carbon or Kevlar fibers. The individual layers must be prevented from separating from each other (delamination) and the fibers prevented from tearing.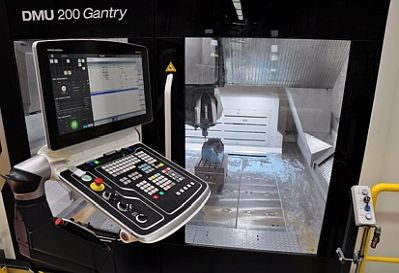 The heart of the machine is a premium CNC SINUMERIK 840D sl with SINUMERIK Operate for operation, setup and programming.
Machining composite parts with inserts made of titanium and other difficult-to-machine materials is even more complicated. Such operations call for appropriate process know-how, suitable machining strategies and tools and, not least of all, a high-performance computerized numerical control system that supports the operator in every situation.
TGR-E and DMG MORI have been cooperating for a number of years now to create the foundation for such machining, and the results can be seen in the machine shop.
Ultrasonic technology from Sauer GmbH, a member of the DMG MORI group, is a major key to more gentle and efficient machining of composites and other materials such as ceramics or nickel-based alloys. The second generation supports ultrasonic-assisted milling with a defined cutting edge. Systematic superimposed high-frequency vibration on tool rotation reduces process forces by up to 40%. This enables higher feed-rates and in-feeds, leads to longer tool life or significantly improved surfaces. Delamination and fiber tearing are prevented.
Specialty: Repairing composite parts
The company now also repairs larger, more complex chassis parts in order to cut times and costs even further. This is done by partially removing layers in damaged places and then building them up again. This extends the range of applications for the new Gantry machine while increasing its capacity utilization and profitability. "In our composite machining, we opted for an open SINUMERIK 840D sl from Siemens all the way to make it easy for us to integrate and utilize such new technologies and functionalities," says Voigt.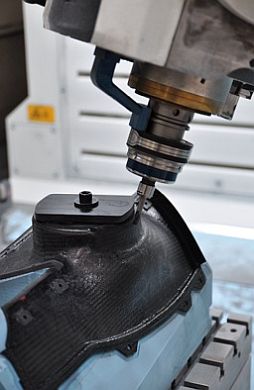 The open Sinumerik 840D sl allows easy integration of ultrasonic technology even in the DMU 200 Gantry.
Efficient gear skiving of both straight and helical inner and outer teeth is a further innovative application that TGR-E entrusts exclusively to SINUMERIK 840D sl. Thanks to the openness of the control system, the machine manufacturer was able to incorporate the required special technology and compile cycles into the NC core.
Everything required for easy, safe, high-performance machining
The often very complex programs are created by TGR-E on a CAD/CAM system. They are then simulated and optimized offline during job planning, before being transferred to the machine control system(s), run-in and executed via the network. All this calls for a high-performance, easy-to-operate control system.
Clearly structured and intuitive: Multi-touch
In DMG MORI's app-based CELOS multi-touch user interface, SINUMERIK 840D sl with SINUMERIK Operate provides a whole range of additional functions and options for operating, monitoring, setting up and programming the machine itself.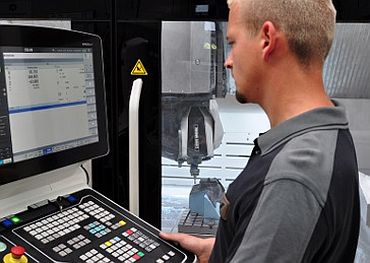 Repair of composites and gear skiving -- DMG Mori has integrated the appropriate cycles into the open CNC core of the Sinumerik CNC.
After just a short field test, Patrick Garbe from the team of experienced senior operators came to the conclusion that it "is very clearly structured, allows intuitive operation, meets practical requirements and brings added benefits." He was particularly impressed by the transfer of NC programs and files between the central server and the machines via Ethernet, the convenience of the program management and handling as well as by the simple gesture control on the large multi-touch display.
Fast switching between applications and easy zooming and scrolling within applications during machining are state-of-the-art in multi-touch operation. This applies, for example, to various machine functions or a PDF viewer, which saves on printouts for clamping for example.
Server connection, measuring cycles and 3D tool radius compensation
Creating new tools on the machine is an intuitive process and the operator can view all the important data. SINUMERIK's automatic 3D tool radius compensation keeps the data constantly up to date, thus eliminating the need for manual, and therefore error-prone, calculation.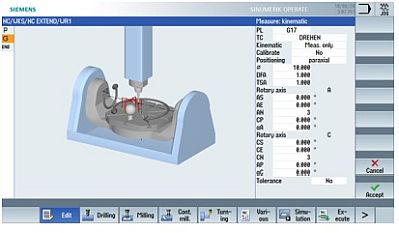 Programmable measuring cycles of the SINUMERIK 840D sl simplify and accelerate the setup and process measurement of components.
Set-up and process measuring of components simplify and speed up programmable measuring cycles. DMG MORI also uses them for its "L-measuring probe package," which significantly expands the available measuring options, especially with geometries that are bulky or difficult to access.
Collision avoidance and intelligent tool retraction - less damage, higher productivity
Siemens has also made advances in the development of collision avoidance. The version used by TMG maps the (machine) components as protection areas in the working area in the form of simple geometric bodies. These are then monitored in the control modes JOG, MDA, and AUTO and can be visualized in a 3D representation on the user interface. As an option, the control system also supports collision monitoring for the machine, clamping equipment, tools and workpiece(s), thus ensuring simple, efficient protection against collisions in every situation.
The Retract function also improves the protection of machine, tool and workpiece by providing automated and safe retraction of tools at points of interruption at the press of a button.
Executing large part programs from the CAD system directly from the storage medium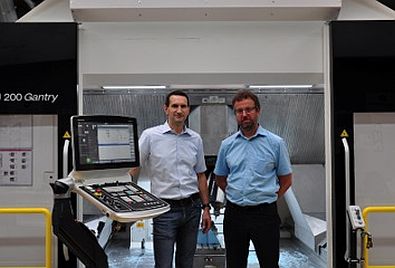 Breaking new ground: "The Sinumerik 840D sl is our preferred control system for composite machining," says Marcel Voigt (left), Senior Manager Production and Supply Chain Management (TGR-E), here with Ralf Friedrich, Siemens Sales Engineer for DMG MORI.
Thanks to the EES (Execution from External Storage) option, TMG is well equipped to execute very large part programs directly from external storage media. EES expands the machine's memory capacity to the size of the external storage medium, enables fast block searches and block jumps and therefore allows work to be done quickly. In this way, SINUMERIK Operate plays a major role in making the machining of complex components even safer and more efficient.
Exploring new ground
The findings from the practical field test are nothing but positive, and Marcel Voigt can imagine a reliable, clean and cost-effective method of dry machining, even when it comes to producing aluminum molds for composite components. Ultrasonic technology could help to reduce, or ideally prevent, the formation of built-up edge, which plagues such processes today.
In the open SINUMERIK 840D sl, collaboration partner DMG MORI has opted for a high-performance control system that is easy to implement with all the required functions. This puts Toyota Gazoo Racing Europe in an ideal position to continue starting from the pole position and hold its own against the competition in an expanded market environment.
Want more information?