New Hobbing Machines Produce Gears for Electric and Hybrid Cars
Demand for mass production of high-precision gears is continuing to rise with the shift to electrification of vehicles. With the need for improvements in NVH and fuel efficiency, plus the trend toward low-cost manufacturing, Nidec Machine Tool has launched the new GE15HS and GE25HS models of gear hobbing machines. Emphasizing high speed, precision and efficiency, these new machines produce gears for electric and hybrid cars amid the global trend toward reducing the carbon footprint.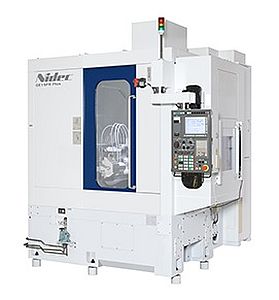 The GE15HS model is designed for gears with a maximum diameter of 150mm, widely used in automobiles and motorcycles. The high-speed, high-torque direct-drive motor for the main cutting spindle provides a maximum spindle speed of 6,000 min -- three times faster than previous models. The high efficiency spindle holding the workpiece uses a special table that provides high rigidity and high-speed rotation to handle the necessary thrust load for high efficiency machining.
Cutting gears with Nidec super-hard cutting tools yields a surface roughness of less than Ra0.4; on par with gear grinding. The GE15HS provides process efficiency, eliminating the finishing process of shaving prior to heat treatment, improving productivity and reducing processing cost.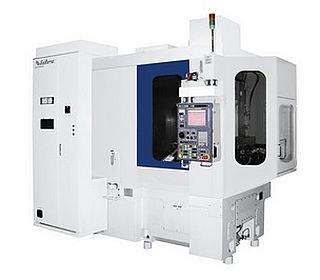 The GE25HS is for larger gears up to 250mm in diameter, such as automobile differential gears. With its high-efficiency processing, this model utilizes a high-speed, high-power spindle eliminating the effects of temperatures variation during production. The high rigidity table has a backlash eliminator incorporated as standard equipment. In addition, the motor torque and maximum spindle rotation speed of the main spindle have been increased 150% from previous models, providing a 42% reduction in processing time.
Used in combination with Nidec Machine Tool's new materials and coatings for cutting tools, the GE25HS model provides stable mass production with a cutting speed of more than 400m/min.
Want more information? Click below.
Copyright © 2023 by Nelson Publishing, Inc. All rights reserved. Reproduction Prohibited.
View our terms of use and
privacy policy
::m::