New CNC Vertical Honing System Delivers Tight Bore Tolerances, Lowest Cost on Large, Heavy Parts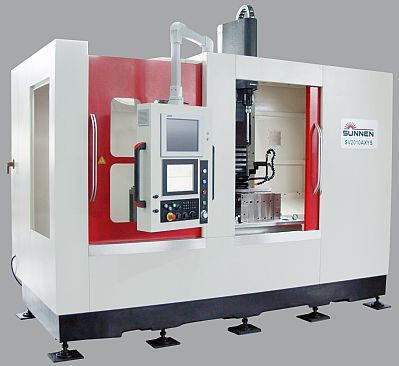 The new Sunnen SV-2010 AXYS CNC honing system is designed to solve the challenge of honing large, heavy parts such as cast-iron hydraulic valve blocks and bolted assemblies common to heavy duty machinery used in the mining, off-road, and construction industries. These parts are historically difficult to fixture and hone, and the SV2010 AXYS sets a new industry standard for cost-efficient production of these applications.
The machine is built around Sunnen's field-proven SV-2000 series honing column. The system integrates the vertical honing column with a high-resolution (20 million pixel) industrial camera and a heavy duty i5 CNC controlled servo X-Y table to facilitate precise bore positioning accuracy to 0.02 mm (0.0008 in).
The operator loads the part, hits the start button, and the system automatically finds the centerline of each bore. The machine then automatically hones each bore to spec, in sequence. The operator is free to complete other tasks while the machine completes the part, exponentially increasing operator efficiency and productivity.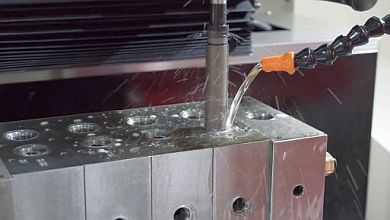 Easy to use, intuitive controls reduce setup time and operator training requirements. The advanced, 7.5 kw (10 hp) high-torque output servo honing spindle allows the machine to short stroke or dwell in any part of the bore. The system's automation and precision honing technology deliver the lowest cost per honed part, while hitting tight bore tolerances.
Machine weight is approximately 6350 kg (7 tons) with a rugged, solid cast iron base and honing column, to reduce vibration, increase rigidity and enhance performance. The system handles parts with bore diameters from 5‐65 mm (0.2 to 2.56 in). The part maximum envelope is 600 mm (L) x 300 mm (W) x 300 mm (H), (23.6 in x 11.8 in x 11.8 in) and the maximum part and fixture weight is 800 kg (1764 lbs).
Other features include fully enclosed guarding with a large opening for easy part loading/unloading, "lubed-for-life" over-sized stroke guideways to ensure superior performance and long, trouble-free life, NFPA79 compliant wiring and compliance with the European machinery directive (CE). The machine workspace allows room for expansion and automation, such as optional post-process brush and air-gaging stations. Left and right-side access to the system allows for easy production line automation.
Want more information? Click below.