Next-Generation CNC Platform More than 10 Times Faster than its Predecessor
CNC specialist NUM has launched a radically new CNC platform that sets fresh performance benchmarks in machine control.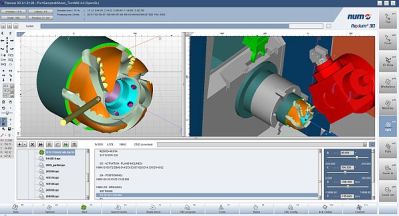 NUM's new FlexiumPro CNC platform makes significant advancements on the calculation power, speed, connectivity and reliability of the company's previous-generation Flexium+ CNC system.
FlexiumPro's Real-Time Kernel (RTK) hosts an embedded Codesys V3 PLC and a CNC unit. Based on a multi-core ARM processor, the RTK is implemented using advanced system-on-chip (SoC) technology. The tightly integrated nature of this technology helps to significantly reduce the component count, resulting in improved system reliability and compactness. The single-board and fan-less design of the RTK unit is only 25 mm wide.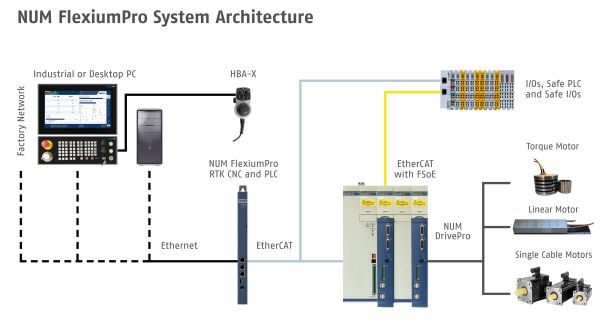 The speed advantages of NUM's FlexiumPro CNC system are considerable. Its hard real-time operating system reduces latency and obviates the time overheads of complex "soft" operating systems; every aspect of the hardware and firmware is optimized to maximize machine precision and performance, while delivering secure connectivity.
Compared to its Flexium+ predecessor, the new system is more than 10 times faster -- from boot time and block-per-second execution, to axis control, PLC/CNC data exchange, robot and peripheral I/O interfaces.
The PLC application, part programs, machine configuration, calibration data, etc., are all safely saved on a removable microSD card -- and to secure shutdown processes, the FlexiumPro RTK incorporates super-capacitors, which keep the system alive for the time needed to save all data in the case of hard power off.
Machine users and OEMs familiar with NUM's Flexium+ CNC system will find it very easy to migrate to FlexiumPro. Its PLC programming languages and environment are identical to Flexium+, part programs remain compatible with both systems, software interfaces to custom HMIs (Human Machine Interfaces) remain very similar, and all EtherCAT terminals and safety devices are unchanged.
FlexiumPro retains and extends all behavioral and functional aspects of NUM's Flexium+ system. These include control of up to 32 axes and/or spindles, up to 32 machining channels, and sub-nanometer interpolation capabilities. The system still supports RTCP (Rotation Tool Center Point) and HSC (High Speed Cutting) functions, as well as a number of technology-specific functions and machining cycles.
NUM has also developed an innovative user interface (UI) architecture for FlexiumPro that can incorporate individual OEM-defined modules with integrated features related to the technology. Until now, OEMs often had to develop dedicated HMIs for specific technology in their products, which could be an expensive, time-consuming task.
Want more information? Click below.